About Mercy For AnimalsTogether we will end factory farming.
Inspiring Compassion. Ending Cruelty.
Our mission is to construct a compassionate food system by reducing suffering and ending exploitation of animals for food.
Imagine a world free of cruelty, a world in which we nurture our bodies, minds, and spirits with wholesome, healthy food that is kind to animals and sustainable for our planet. Mercy For Animals believes that world is possible. In fact, it is inevitable if we work together to elevate humanity to its fullest potential.
---
Our Approach
We are on the front lines fighting to protect farmed animals. From factory farms to corporate boardrooms, courts of justice to courts of public opinion, Mercy For Animals is there to speak up against cruelty and for compassion. Read our three-year strategic plan to learn more.
---
---
Meet the Board
Nathan is the founder and former president of MFA. He founded the organization at age 15, after an animal abuse case in his local farming community in rural Ohio.

Nathan has worked alongside elected officials, corporate executives, farmers, and celebrities to pass legislation, raise public awareness about veganism, and implement animal welfare policy changes. Through his work with MFA, Nathan has been featured in hundreds of news outlets, including on ABC World News Tonight, Nightline, 20/20, and CNN and in USA Today, The New York Times, and the Los Angeles Times.

He is the author of the 2017 best-selling book Mercy For Animals: One Man's Quest to Inspire Compassion and Improve the Lives of Farm Animals.
Michael Pellman Rowland
Treasurer
Michael is a partner and co-head of impact investments at Alpenrose Wealth Management. Key components of his work include helping clients maximize the benefits of sustainable investing and multigenerational planning. Michael is a frequent public speaker and has been featured in The Wall Street Journal, Forbes, Financial Times, and Institutional Investor. He was selected for the InvestmentNews 40 Under 40 list of top wealth advisors and included in the Forbes inaugural list of America's Top Next-Generation Wealth Advisors. Recently, Michael was selected as a founding member of the Forbes Impact Investing Community. He also has a column on Forbes.com, covering the business of food from a sustainability perspective, and contributes finance-related articles in print for Forbes Monaco.
Jaime comes to MFA with a long career in hospitality sales. She has worked with leading businesses such as OpenTable, Daiya Foods, and HotSchedules. Through this work, Jaime has built deep relationships with some of the biggest and most influential restaurants in America. A longtime supporter of MFA, Jaime served as director of corporate outreach from 2013 to 2014. She is committed to creating a humane world by reducing animal suffering, increasing plant-based offerings, and ensuring fellow advocates are able to work in an inclusive, safe, and open environment.
Derek is a founding board member of MFA, overseeing the organization's growth and success for over a decade and working diligently to maximize efficiency through his expert guidance. A graduate of Miami University with a degree in computer science and systems analysis, Derek actively combines his passion for technology with his passion for animals. In 2007, Derek was the first person honored with MFA's Hope Award for his dedication to defending farmed animals.
Lisa is the CEO of Stray Dog Capital, a venture capital firm that invests in early-stage, mission-driven companies that aim to take animals out of the supply chain with innovative products and services. With over 26 investments, Stray Dog Capital is one of the leading early-stage investors in the plant-based market. Before Stray Dog Capital, Lisa spent over 15 years in general management, operations, and engineering at blue-chip companies like General Mills and Procter & Gamble. She has a bachelor's degree in chemical engineering and a master's from the University of Chicago Booth School of Business. Lisa spent over 14 years focused on food operations and consumer packaged goods and led marketing, profit-and-loss management, and strategy for billion-dollar brands. In addition, Lisa is a Kauffman fellow and an active board member at several portfolio companies and the Great Plains SPCA shelter.
Alexis is the CEO of Lighter, an influential technology company that helps the world eat better. Alexis has dedicated her life to fixing our broken food system. She has worked in the movement as an attorney, political leader, and entrepreneur. She also spent three years as an adjunct professor of leadership at Emerson College.
Our Leadership Team
Changing Hearts. Changing Minds. Changing the World.
Leah Garcés is president of Mercy For Animals. She has been fighting for better food and farming systems for nearly 20 years as a leader in the animal protection movement.
Leah oversaw international campaigns in 14 countries at the World Society for the Protection of Animals and launched Compassion in World Farming in the United States. She is the author of Grilled: Turning Adversaries into Allies to Change the Chicken Industry from Bloomsbury Publishing.
Leah's work has grabbed headlines in the New York Times, the Washington Post, BuzzFeed, Vice magazine, the Chicago Tribune, and other national media outlets. Leah also serves on the advisory councils of Encompass and Seattle Food Tech. She lives in Atlanta, Georgia, with her husband, three kids, and two cats.
Learn more about her vision for the organization here.
Lucas Alvarenga
Senior Vice President, Strategy, Impact & Research
Lucas Alvarenga serves as MFA's senior vice president of international programs. Born and raised in Rio de Janeiro, Brazil, Lucas has extensive marketing experience and co-founded an e-commerce company. When Lucas decided to dedicate his life to reducing suffering, he launched pro-vegan projects in Brazil, including a 21-Day Meatless Challenge in partnership with the Brazilian Vegetarian Society. Lucas joined MFA on his 15th anniversary as a vegetarian. He led MFA's growth in South America's largest country for three years. In his current role, Lucas uses this experience to build MFA's work in other regions of the world.
LeAnn Harris
Senior Vice President, Support
LeAnn Harris serves as MFA's senior vice president of support. Her role provides strategic leadership to our support areas of communications, creative, optimization, and administration. In various industries from broadcast media to financial services, she has gained years of experience driving organizational growth and efficiencies. She is grateful for the opportunity to give a voice to the voiceless and help further our mission. LeAnn lives in Southern California and loves vegan burgers, her morning coffee, and discovering new cruelty-free fashion brands.
Melanie Heymans
Senior Vice President, People and Culture
Melanie Heymans serves as MFA's senior vice president of people and culture. Melanie and her team are responsible for overall administration of the people operations functions for all MFA offices. They drive initiatives that support and strengthen our organizational culture and ensure a diverse and inclusive work environment for all team members. Originally from Austria, Melanie moved to the U.S. in 2010 with her husband and has worked with several mission-driven and nonprofit organizations to build strong people operations functions and foster supportive, diverse, and inclusive cultures. Melanie lives in Washington state and enjoys travel, good food, exploring nature, and living an active and compassionate life.
John Seber
Senior Vice President, Advocacy
John Seber is MFA's vice president of legal affairs and deputy general counsel. John provides legal support to MFA's programmatic and support departments while pursuing strategic legal opportunities on behalf of farmed animals. John has successfully litigated cases affecting animals in federal and state courts throughout the United States. He graduated cum laude from the University of Michigan Law School and magna cum laude from Georgetown University.
Jesse Marks
Senior Vice President, Engagement
Jesse Marks is MFA's vice president of corporate engagement. He leads a team working with major food companies and government institutions to eliminate cruel practices from their supply chains and to increase the market share for plant-based food. Jesse has been in the animal protection movement since 2002 and has over a decade of professional experience in advocacy, campaigns, and communications for animals. Originally from Australia, Jesse was previously the director of farmed animal advocacy at Animals Australia, where he helped pioneer corporate engagement in the region, develop innovative new outreach tactics, and build cutting-edge digital advocacy tools. Having moved numerous times to be where he could best serve animals, Jesse now calls home wherever his wife, Karen, and their rescue dog, Nina, are.
Daina Bray
General Counsel
General Counsel Daina Bray advises MFA and its directors, management, and staff on all legal issues that arise in MFA's work to protect farmed animals. With 15 years in legal practice, including five years as lead attorney for a major international animal-protection nonprofit, Daina brings a breadth of nonprofit, international, and animal law experience to MFA. Daina is a past chair of the American Bar Association Animal Law Committee (2017–2018), the current vice chair of the Tennessee Bar Association Animal Law Section, and a Fulbright scholar. She received her law degree from Stanford Law School and her bachelors in international studies from the University of North Carolina at Chapel Hill as a Morehead scholar.
Kenny Torrella
Vice President of Public Engagement
Kenny Torrella serves as MFA's vice president of public engagement. He works with MFA's team of writers and editors and has garnered media coverage for farmed animals in mainstream news outlets, such as the Associated Press, The Washington Post, and Fortune magazine. After watching undercover investigation footage from factory farms and slaughterhouses 10 years ago, Kenny became vegan and has been active for animals since. He lives in Washington, DC, with his partner and their rescue dog, Rihana.
Sandra Lopes
Managing Director, Brazil
Sandra Lopes is MFA's managing director in Brazil. Sandra has over 20 years of experience in animal protection through national and international organizations. She went vegan in 2004 after being vegetarian for nearly her whole life. Born and residing in São Paulo, Sandra is a proud mom of two daughters, four cats, and a dog.
Linda Obregón
Managing Director, Latin America
Linda Obregón serves as managing director in Latin America and is based in Mexico City. Linda has extensive experience in corporate strategy and plant-based food innovation. In late 2016 she decided to focus her career on reducing suffering; she organized the first Effective Vegan Activism Training in Peru (her home country) and persuaded top-ranked Peruvian university directors to introduce plant-based food alternatives for campus consumption. In 2017 Linda founded a Chilean plant-based food startup receiving government funding, ultimately attracting customers like Unilever and established nutritional centers. Recently she led the Million Dollar Vegan campaign for Peru and Chile.
Kelcey Meadows-Lucas
Philanthropy Officer
Kelcey Meadows-Lucas is one of MFA's philanthropy officers, helping our donors fulfill their dreams of ending farmed animal cruelty. Adopting a feisty terrier 15 years ago opened her heart to all animals. Kelcey soon became vegan and dedicated her life to helping animals. She brings more than a decade of fundraising experience to her position. Kelcey shares her home with her husband and toddler son.
John Karas
Philanthropy Officer
John Karas is MFA's philanthropy officer for the East Coast and the South. He works with friends and supporters who wish to match their personal philanthropic goals with MFA strategic initiatives. John is a graduate student researcher of social change and brings more than a decade of development experience to his position. John and his wife are parents of three great kids and share their home with adopted cats Rico and Captain, and rescue labs Baylor and Lola.
Tracy Keys
Philanthropy Officer
Tracy Keys is one of MFA's philanthropy officers, helping donors make the greatest impact for animals with their giving. Prior to joining the MFA team, Tracy was executive director at the Newport Beach Public Library Foundation. Tracy received her BA in comparative literature from the University of California at Irvine. Her passion for animal rights began after reading Peter Singer's Animal Liberation and participating in campus vivisection protests. She lives in Laguna Beach with her husband, two mixed-breed cats, and a Shih-Tzu rescued from the local shelter where she volunteers every Sunday.
Join Our Team
View Job Openings
Interested in Joining our Team? Click here to see our current job openings.
MFA also invites individuals to join us as volunteers and interns. Please visit our Action Center and Internship Program pages for more details.
---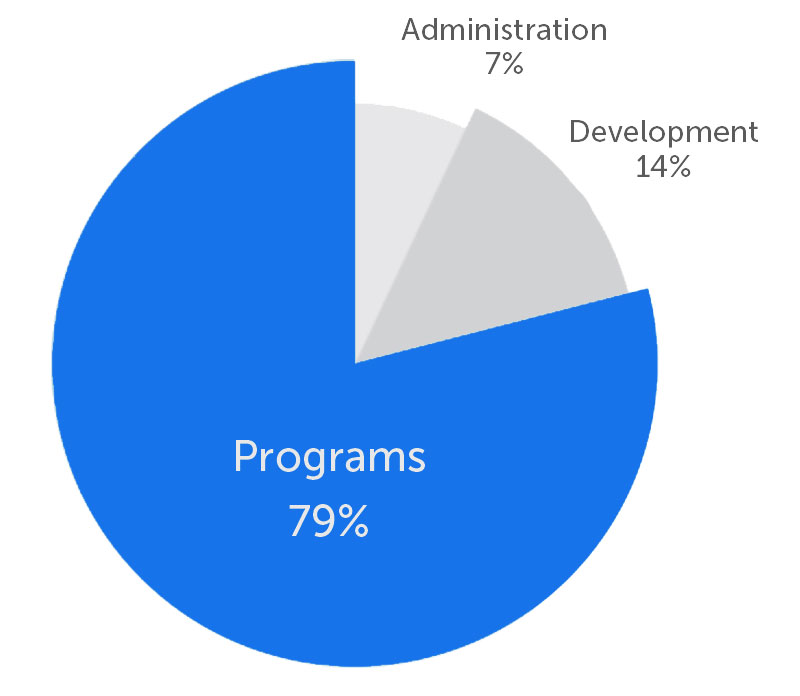 Your Money at Work
Nearly 79 cents of every dollar spent by Mercy For Animals goes directly to programs that save animals. The remainder is used to grow MFA's size and capacity so we can help even more animals in the future.
Learn More
---
BECOME AN INVESTIGATOR ALLY
Your monthly gift will bring hope to suffering animals.
"What keeps me focused is to remember that we are their only hope."
—Camilla, an undercover investigator in Brazil