Today, Mercy For Animals members paid a visit to Gordon Food Service headquarters in Grand Rapids, Michigan to deliver more than 120,000 petition signatures—including actress Pamela Anderson's—demanding the company stop torturing chickens. Gordon Food Service is the largest private foodservice distributor in the country and supplier to PF Chang's, Perkins, Red Robin, Culver's, The Melting Pot, and other national restaurant chains.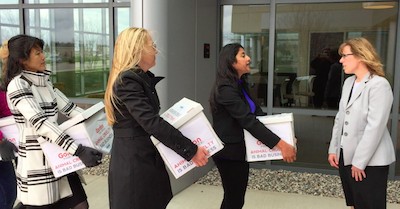 The petition signatures were in response to
a shocking MFA undercover investigation
exposing rampant animal abuse at a Gordon Food Service chicken supplier, including birds with broken legs and wings violently shackled upside down, painfully shocked with electricity, cut open while still conscious and breathing, and scalded alive.
Watch the hidden-camera video here:
Mercy For Animals is calling on Gordon Food Service to implement meaningful animal welfare requirements for all of its poultry suppliers, including on-farm improvements to reduce the number of birds who arrive sick or injured at the slaughterhouse and switching to less cruel killing systems that eliminate the horrific suffering caused by dumping, shackling, shocking, and slaughtering conscious animals.
In addition to protecting animals from malicious cruelty and violence on factory farms, MFA's proposed animal welfare improvements would prevent animals from being scalded alive in hot water tanks at the slaughterhouse. Shockingly, the USDA estimates that as many as 1 million birds are scalded alive every year in this country.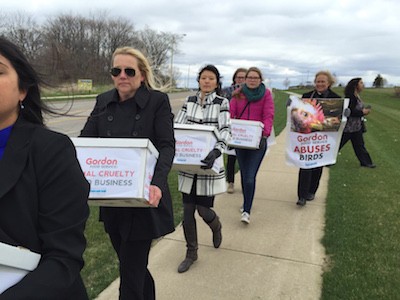 Following the release of similar undercover videos by MFA, major food providers like Nestlé, Kraft and Leprino Foods agreed to enact comprehensive animal welfare policies to prevent egregious animal abuse at their supplier farms. There is no reason Gordon Food Service can't do the same. Unfortunately, Gordon Food Service refuses to meet with MFA and continues to tolerate horrific animal abuse in its supply chain.
Please join MFA, Pamela Anderson and more than 120,000 concerned consumers in calling on Gordon Food Service to immediately implement a meaningful animal welfare policy. Sign the petition at
GoryFoodService.com