Ever wonder what it would be like to live in Los Angeles advocating for farmed animals? Olivia Price spent three months volunteering in our Los Angeles office this summer, during which time she wrote countless blogs, helped hand out thousands of leaflets, and marched in the San Francisco pride parade.

We recently caught up with Olivia to find out about her experiences with MFA and to learn what is next for this superhero for animals.
What inspired you to go vegan?
After stumbling upon MFA's
Farm to Fridge
video, I was shocked to learn the truth about what goes into the meat industry. I became vegetarian, and then, after reading Peter Singer's
Animal Liberation
, I decided that I couldn't support any animal exploitation, and cut out the dairy, eggs, and remaining animal products from my diet. That day was two years ago!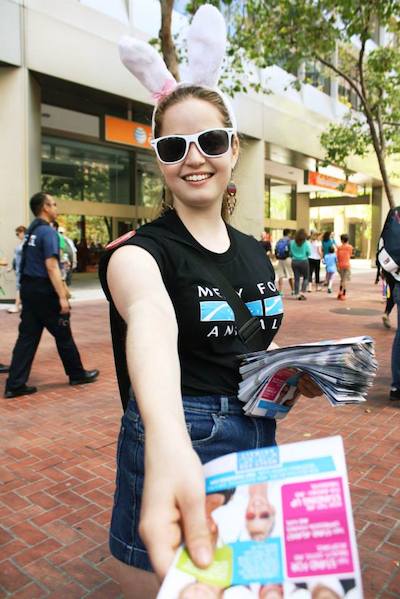 Why do you volunteer your time to help farmed animals?
Some of the most intense suffering on the planet happens inside factory farms, and I believe that the reason it continues is because consumers are largely unaware of where their food comes from. I feel that it's my duty to help spread the truth, and encourage people to eat veg as the best way to protect animals everywhere.
What is your favorite vegan/animal rights resource?
I love Happy Cow as a guide to finding veg-friendly restaurants and grocery stores all over the world. As someone who is deeply passionate about food, it's gratifying to learn that I can find delicious vegan food anywhere. Finding the all-vegan deli in Barcelona made me especially proud to be veg!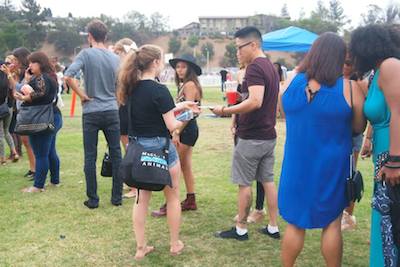 What are your most memorable experiences volunteering with MFA?
I loved going to San Francisco for the pride festival, and handing out 14,000 leaflets, as well as representing MFA in the parade. It was so rewarding to feel all of the positive energy there and to see thousands of people carrying our literature. I also met incredible activists who came out to leaflet with us. It's heartening to realize that animal rights advocates are everywhere and willing to put in time to make a difference.
Can you offer any insight for others interested in becoming involved with animal rights activism?
Start from the ground up. If you're in school, start or join an animal rights group, and start small scale with posters for Meatless Monday, leafleting local events, and getting together for vegan potlucks; building a community is essential.
If you're not in school, you can still leaflet and promote veganism with your choices and your conversations with friends and family. I also recommend that everyone read
The Animal Activist's Handbook
. It's full of great info about how to make your work as effective as possible.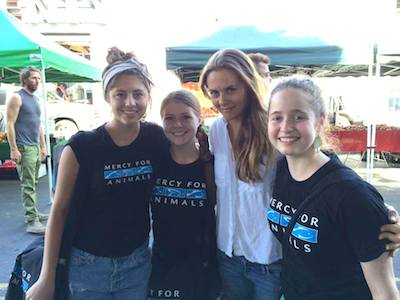 Is there anything you would like to add?
My favorite way to turn people on to veg eating is by cooking for them. I make some delicious chocolate chip cookies (and I'm SO humble about it), and I find that people really dig the more decadent vegan goods that I make: cheesecake bars, chocolate pie, peanut butter fudge, and gooey casseroles. It really goes to show you that vegan food is anything but boring.