One Green Planet
recently blogged
about a farmed animal sanctuary in Victoria, Australia called
Edgar's Mission
, which organizes regular therapy visits to nursing homes with a goat, a sheep, and a chicken.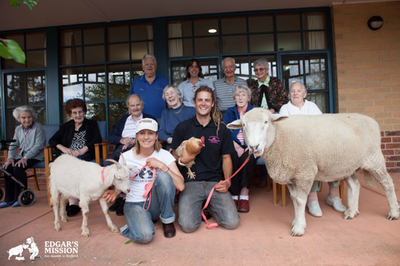 While it's common to bring dogs or cats into hospitals and hospices to help lift spirits, bringing farmed animals is a new and lovely twist.
"Fostering kindness for all beings can never be understated," said sanctuary founder and director, Pam Ahern. "Every day I see how the sanctuary residents grow more confident when treated with kindness and I see here today how the elderly respond so positively to the animals. Timmy Sheep causes many to smile and relive stories of the past. Gentle hands outstretch to offer Miss Chief the cheeky goat a leaf to eat and dear little Ginger Chicken just delights one and all as she loves to talk."
Just check out these photos from a recent visit to Dianella Aged Care Facility. If they don't warm your heart you might want to check if you still have a pulse.