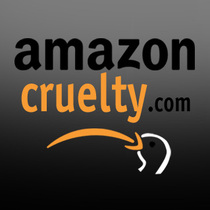 Thousands of compassionate people have signed the petition calling on Amazon.com to immediately end the sale of foie gras following a
Mercy For Animals undercover investigation
revealing the systematic and intentional torture of ducks at an Amazon foie gras supplier.
Last week, MFA released hidden-camera video footage taken at Hudson Valley Foie Gras–the country's largest foie gras producer–showing workers violently grabbing ducks by their wings and necks and shoving metal pipes down their throats in order to force-feed them. This painful force-feeding process causes the birds' livers to swell up to ten times their normal size. The resulting diseased, fatty livers are sold as "foie gras" on Amazon.
The shocking undercover investigation garnered widespread media coverage, including by major television and newspaper outlets, such as
ABC News
and the
Seattle Times
. Here's a quick roundup of just some of the coverage that has informed people worldwide about the horrific abuse of ducks at this Amazon foie gras supplier.
Despite international outcry, the world's largest online retailer remains a lame duck by allowing the sale of inherently cruel foie gras on its website. In the past, Amazon has stopped selling other products, including whale meat, shark fin soup, and animal fighting videos, due to their inhumane production methods.
It's time for Amazon to stop ducking this important issue by implementing an ethical and humane policy banning the sale of foie gras too.
Here's How You Can Help!
Visit AmazonCruelty.com and share the video with everyone you know


Sign the petition calling on Amazon to immediately end the sale of foie gras.


Take a personal stand against cruelty to animals by choosing a healthy and humane vegetarian diet.