We've all heard the misconception "bird brain. But the most recent scientific research shows that birds are actually highly intelligent beings capable of feeling pain and suffering. These include the birds we eat—namely, chickens.
From anticipating future events to recalling the trajectory of a hidden object, chickens are incredibly smart. They even possess self-control, holding out for a better food reward, and can assess their own position in the pecking order—
both characteristics of self-awareness
.
What's more, chickens pass down knowledge from generation to generation and can recognize over 100 individual faces, not only of their fellow chickens but of humans. They also understand that recently hidden objects still exist, something beyond the capability of a two-year-old human child.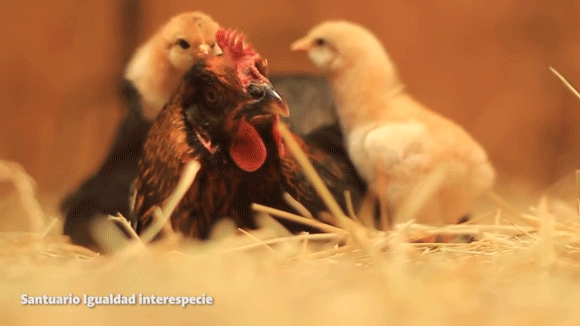 Chickens also experience joy, loneliness, frustration, fear, and pain just like the dogs and cats who share our homes. They even purr when they're petted like cats!
Unfortunately, chickens are one of the most abused animals on the planet. In fact, chickens make up 98 percent of the land animals raised and killed for food in the U.S. and lead some of the most miserable lives. They are subjected to cruelties few of us can even imagine.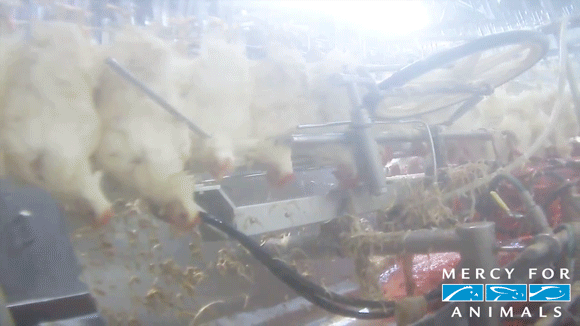 Multiple undercover investigations by Mercy For Animals into Tyson Foods—the world's largest chicken producer—have exposed horrific abuse, including sick and injured birds left to die in filth; workers viciously punching, beating, and stabbing these sensitive animals; and live, conscious birds having their heads ripped off.
Don't believe us? See for yourself.
To make matters worse, not a single U.S. federal law protects animals during their lives at factory farms, and the law that's supposed to protect animals at slaughterhouses, the Humane Methods of Slaughter Act, doesn't extend to birds, leaving chickens with virtually no protection from abuse.