Chicago is the proud home of
Upton's Naturals
, a natural foods manufacturer known for its tasty seitan twists on traditional sandwiches. In business since 2005, Upton's is committed to making delicious vegan products from real, simple ingredients. Its products are currently available in numerous stores and restaurants
nationwide
, and will be offered in many more this year. A conscious, vegan-owned company, Upton's Naturals is also a regular supporter of Mercy For Animals and contributor to Chicago's
Vegan Chef Showdown
. We recently sat down and talked with owner Dan Staackmann.
MFA: How was Upton's Naturals started?
DS: The idea for the company began in 2004, when I suggested to a friend of mine that we start a business together. We had both been vegan for a long time and we knew we wanted to do something with food. Neither of us had a background in business or cooking, so it was all learn as you go. We were able to find a shared commercial kitchen space that we used to develop the product and test the market. Then in 2005 we signed a lease for our own facility. Since it was easier to package seitan in bulk (and less expensive), we began selling to restaurants in Chicago. By 2006 we were confident that we had a product that was ready for retail, so we invested in the packaging and equipment and launched our Italian sausage-style and chorizo-style seitan.
MFA: "Upton's Naturals" – what inspired the name?
DS: Upton's was actually the suggestion of a friend. Not being a very good self-promoter, I definitely didn't want the company to be named after me, but I liked the idea of it being someone's name, even if that person was fictional. Upton fit the image we had in mind and we knew it was unique enough to never be confused with another seitan company.
MFA: What was the motivation for providing plant-based alternatives to meat products?
DS: As we always like to point out, seitan is its own thing and conveniently has a meaty texture. We've tried to season ours similarly to popular meat products to offer those who miss them the opportunity to enjoy those tastes. After all, nothing comes straight from a cow tasting like Italian sausage. We hope that more people will see how easy it is to be vegan–and that it's not about just eating salads. (However, it's important to eat salads too!)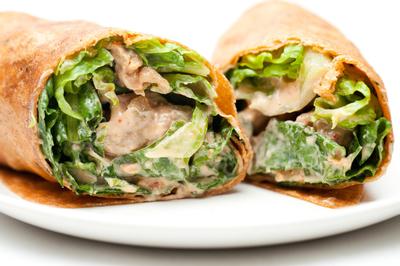 MFA: Why seitan? What made you choose your current flavor varieties?
DS: After going vegan and discovering seitan, it quickly became one of my favorite foods. When the company began, there was only one national brand in stores and just a few restaurants made their own (at least in Chicago). It seemed like there were definitely more restaurants, and eventually stores, that could benefit from having a local source.
The Italian-style was our first successful creation and it was a happy accident after a failed attempt to produce a more traditional sausage. From there we just experimented with other flavors we liked and eventually developed a "traditional" as well.
MFA: You now offer pre-made sandwiches. Where did this idea come from?
DS: The wrap and sandwich line was a result of both consumer demand and our need to keep busy while slowly building the brand. Our best customer at the time, Chicago's South Loop Whole Foods, mentioned that they didn't have many good vegan prepared-food options although many customers asked for them frequently. At that time we were only in a handful of stores and were still working up to five days a week in production. We knew we couldn't add hundreds of stores overnight but could probably handle producing some simple sandwiches locally. This would also help keep our employees busy while we expanded the brand.
MFA: How long have you been vegan and what was your journey like?
DS: I've been vegan 20 years. I decided when I was 15 years old that enough was enough and dropped all animal-based foods from my diet. There wasn't any argument for veganism that I didn't agree with…from health, to animal rights, to environmental impact. It's been really amazing to see how the public's perception of veganism has changed and how many products have been added to the market. In the beginning, no one would know what you meant when you said, "I'm vegan," and you'd be lucky to get a cup of veggie chili and a hummus plate at only a handful of restaurants. Now, "vegan" is practically a household word, there are aisles full of vegan items, including meat and dairy alternatives at grocery stores, and most restaurants have at least a few good options.
MFA: Do you have a favorite recipe?
DS: I usually keep it simple with Italian-style seitan on pizza or chorizo-style in tacos with avocado, but there are many
recipes
on our website.
MFA: What events do you typically participate in and why? What are your favorites?
DS: We travel the country attending vegetarian and vegan festivals to promote our company and try to support the communities that support us. It's important that these events happen and the more vendors that participate, the more people that attend and learn about going vegan. It's hard to pick favorites, but some we've really enjoyed being a part of are
Vida Vegan Con
in Portland,
Texas State Veggie Fair
in Dallas, and
Chicago VeganMania
. And this year we had the honor of helping to sponsor the MFA
Justice For All
event in Hollywood.
MFA: You give a lot back to the community. Why do you feel that is so important?
DS: Being vegans ourselves, we think it's important to support groups that we believe in.
MFA: What's next for Upton's Naturals?
DS: We've spent the last few years increasing our distribution and plan to continue to expand. We have a few other surprises that we're working on and hope to share them with everyone by the beginning of 2013!
To learn more about choosing a compassionate vegetarian lifestyle, visit
ChooseVeg.com
. For your free Vegetarian Starter Kit,
click here.