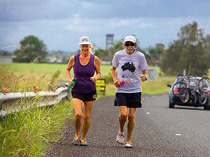 Can you imagine
running a marathon every day
? That's just what Janette Murray-Wakelin, 64, and Alan Murray, 68, did. Running every day of 2013, they finished their 365th consecutive marathon on December 31. On January 1, they broke the world record with their 366th marathon.
According to "The Huffington Post," Janette Murray-Wakelin was diagnosed with a highly aggressive form of breast cancer in 2001. To the surprise of her doctors, who only gave her six months to live, she's extend her life "through changes in her diet and lifestyle."
The couple's Facebook page states that they've run precisely 9,776.75 miles, crediting their inspiring athletic achievements and the source of their endless energy to their raw vegan diet.
More
and
more
athletes are discovering they can outcompete their meaty counterparts by maintaining a vegan diet, and sports enthusiasts are in the perfect position to help propel plant-powered living into the mainstream.
Athletes looking to boost their performance and health may want to take a cue from this veg-fueled power couple.
Ready to get fit? Visit
ChooseVeg.com
for important information about vegan health, and for mouthwatering, cruelty-free recipes to help you get started.