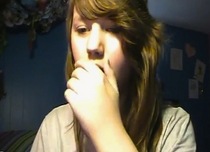 MFA's powerful new documentary
Farm to Fridge
is sparing animal lives, and preventing cruelty, by inspiring countless people to reduce or eliminate their consumption of meat, milk and eggs. Offering viewers an inside look into modern farms, slaughterhouses, and hatcheries,
Farm to Fridge
has amassed millions of online views and has inspired a growing list of positive reactions:
"Wow. This made me become vegan. Seriously."
"I'm a vegan after watching that video."
"I've just told them [my children] we are finished eating meat or fish from now on …"
"Oh my God … I don't think I'm eating turkey this Thanksgiving."
Some
Farm to Fridge
viewers are taking it a step further by videotaping their reactions and sharing them with the world.
One viewer
could not stop crying after bearing witness to the cruel realities faced by animals on factory farms and was moved to adopt a
vegan diet
, and
another young viewer
exclaimed it was the reason he transitioned to a vegetarian diet.
Watch some more reactions to
Farm to Fridge
below:
Video footage is the most powerful tool the animal rights movement has to expose the plight of farmed animals. What will you do to expose the truth?
Click here
for some ideas to get you started.
Help us continue to open hearts and minds and save animals.
Donate
to MFA to help promote advertisements of
Farm to Fridge
, such as online ads, billboards and TV commercials.