Twenty years since the release of
Babe
, a recent piece in
VICE
highlights actor James Cromwell's famed role as Farmer Hoggett and how the movie changed his life.
In an interview, Cromwell explains how the movie inspired his veganism: "The film is about what we do to each other by pigeonholing us and other people into certain categories that protect our own sense of entitlement and position and power. The little pig questions that and finds a receptive consciousness in Farmer Hoggett.
A vocal animal rights advocate and supporter of Mercy For Animals, in 2012 Cromwell joined our protest against the cruel treatment of pigs by Walmart pork supplier Christensen Farms.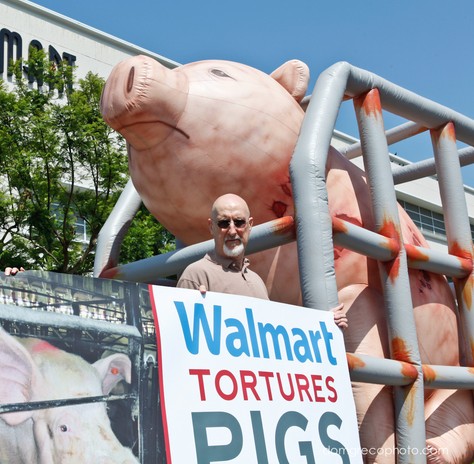 In 2013, the Academy Award nominee narrated our undercover investigation of Pipestone System, another Walmart pork supplier, which exposed workers confining pregnant pigs in filthy, fly-infested gestation crates and violently slamming conscious piglets headfirst against the ground and ripping out their testicles without painkillers.
Additionally, Cromwell narrates our Farm to Fridge video, which details the lives and deaths of animals on modern farms and has been viewed by millions of people.
You can watch it here:
While it's great when celebrities and other public figures take action for animals, we can all do our part by ditching meat in favor of humane, plant-based alternatives.
Click here
to order your FREE
Vegetarian Starter Guide
.