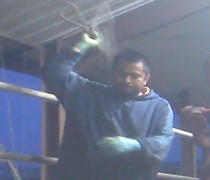 Two more workers have been convicted of animal cruelty following an undercover investigation by Mercy For Animals at Wiese Brothers Farms in Wisconsin. Crescencio Pineda and Misael Monge-Minero were caught on hidden-camera viciously kicking and whipping cows, beating them the face and body, and using machinery to cruelly hoist sick or injured cows into the air. They have been ordered to pay a total of $1,322 in fines.
The undercover video footage led to
the conviction of two other workers
at the facility a few weeks ago. In total, four workers have been charged and convicted of cruelty to animals at this dairy factory farm. At the time of the investigation, Wiese Brothers was a dairy supplier to DiGiorno brand frozen pizza.
Watch the shocking undercover video that led to the convictions here:
In the last five years, Mercy For Animals has conducted five undercover investigations into the dairy industry, and every one of these investigations has led to criminal charges and convictions against workers who were caught on video maliciously abusing animals.
In 2009, an MFA investigator documented calves having their tails cut off and horns burned out of their skulls without painkillers at
Willet Dairy
, the largest dairy factory farm in New York. The investigator also exposed workers hitting, kicking and shocking cows, and leaving sick or injured animals to suffer without proper veterinary care. This investigation led to the arrest and conviction of Phil Niles, a long-time worker at the facility.
The following year, Billy Joe Gregg Jr. was arrested and convicted for criminal animal abuse after an MFA investigator caught him sadistically torturing animals at
Conklin Dairy
in Ohio. The undercover footage showed animals being beaten in the face with metal pipes, repeatedly stabbed with pitchforks, having their tails broken, and being kicked, thrown, and punched by workers.
The owner of
E6 Cattle Company
in Texas was arrested and convicted of cruelty to animals following an MFA investigation in 2011. Undercover footage from this factory farm – which raises over 10,000 calves per year for use on dairy farms – documented workers bludgeoning calves with pickaxes and hammers, burning out their horns without painkillers, standing on their necks, pulling them by their ears, and leaving them to suffer without veterinary care.
And in 2012, MFA's investigation at
Bettencourt Dairies
, the largest dairy factory farm in Idaho, revealed workers viciously beating and shocking cows, violently twisting their tails in order to deliberately inflict pain, and dragging a downed cow by her neck using a chain attached to a tractor. This investigation resulted in the arrest and conviction of Jesus Garza, who was also caught sexually abusing an animal at the facility.
Although these investigations prove that shocking and criminal animal abuse runs rampant in the dairy industry, choosing healthy and delicious vegan alternatives to milk, cheese and ice cream is an easy way for compassionate consumers to help end the needless suffering of cows and other farmed animals. Visit
ChooseVeg.com
to learn more.