Billions of farmed animals are brutally killed every year for food. Many go to great lengths to escape their cruel fates. These are just a few.
1. This pig who jumped off a moving truck to save his life.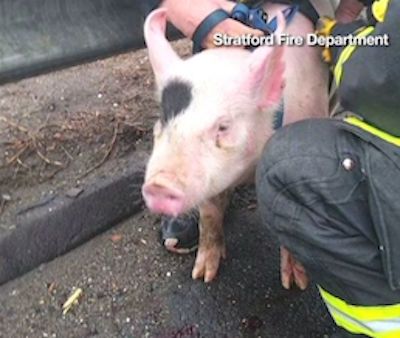 Phineas
was found wandering on an interstate highway near Stratford, Connecticut. Believed to have jumped off a truck on his way to a slaughterhouse, he made a run for his life, sustaining just a few scrapes. Thankfully, he recovered and his story ended happily, although this fate is highly uncommon for farmed animals.
2. This cow who jumped a six-foot fence to escape a violent death.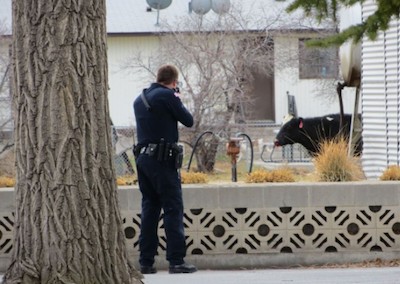 A cow destined for slaughter at a meat-processing plant in Pocatello, Idaho,
fought desperately
for her life, jumping a six-foot fence in a brave attempt to escape being killed.
Unfortunately, she was cornered and shot in the head multiple times by police before being dragged off to the processing plant.
3. This pig who went viral after taking a leap of faith from a truck.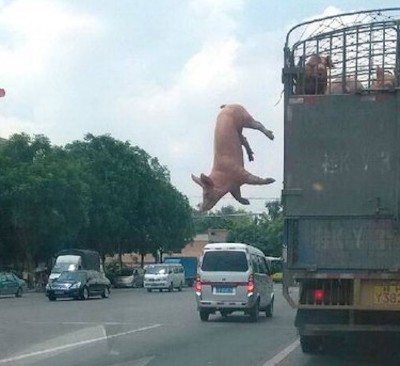 A driver in China captured harrowing images of a pig's courageous attempt to
save her own life
.
Crammed into a transport truck destined for the slaughterhouse, one determined pig made a death-defying leap out of the vehicle and onto a busy roadway. Luckily, she survived and authorities promised she could recover and live out her life in peace.
4. This pig who fled to a Buddhist temple to escape slaughter.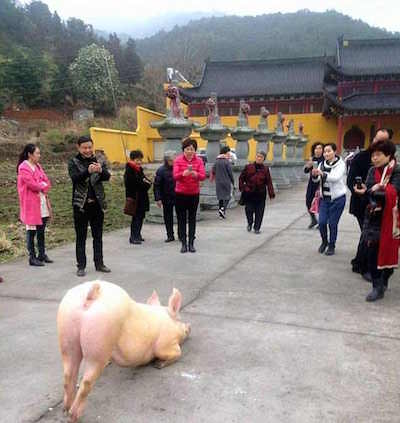 A pig in China ran from a slaughterhouse and
ended up at a Buddhist temple
. What makes this story unique is that the pig knelt down and appeared to pray in front of the temple. This sparked a flurry of speculation on Chinese social media that the pig was on a pilgrimage. In reality, this poor animal was probably exhausted from running for her life.
Sadly, she was slaughtered just after being recaptured.
5. This steer who ran from a slaughterhouse in Queens.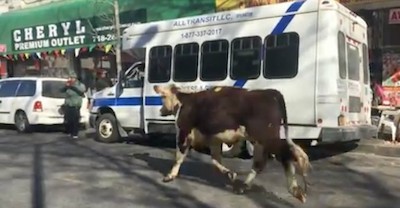 A fearless steer named Freddy made a valiant
run for his life
when he escaped the Jamaica Archer Live Poultry and Meat Market in Queens, New York.
Fortunately, his brave escape paid off. Although he was corralled by the NYPD and brought back to the slaughterhouse, Mike Stura of New Jersey's Skylands Animal Sanctuary waited all night for him and was allowed to take him to safety in the morning.
6. This lamb who dashed through Chicago's busy streets.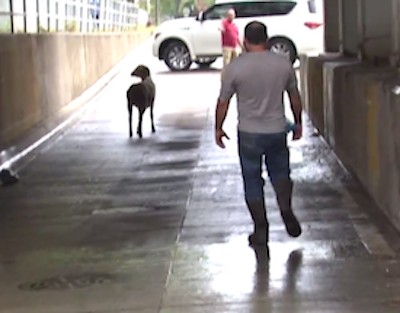 A
lamb about to be killed
at a Chicago slaughterhouse made a panicked escape to save his own life. The frightened animal was spotted running near the famed Canaryville street sign on the city's Southwest Side.
The lamb ran through busy city streets for about 10 minutes, chased by a man assumed to be a slaughterhouse worker. Sadly, the lamb was cornered and then driven away in the back of a pickup truck.
7. This Australian steer who jumped off a ship.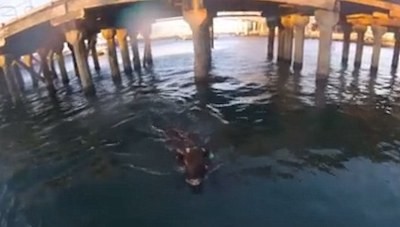 A steer in Western Australia
jumped off a live export ship
. According to the "rescue team, "The animal made its way to shore before running on land into the Fremantle town centre, where rangers and other agencies took over the recovery operation.
After swimming ashore and evading authorities for 24 hours, the steer was eventually found. Sadly, he was killed.
8. These 200 piglets who ran for their lives.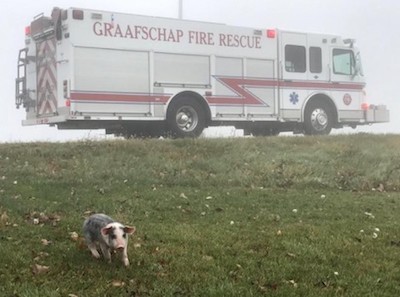 Authorities said the pigs broke free after the semi tractor-trailer carrying more than 2,000 pigs burst open in a foggy three-vehicle collision.
It was reported that 20 of them were killed in the crash, and all of the surviving pigs were transferred to other trucks and continued their journey to Indiana where they would be slaughtered.
—
Like the dogs and cats we know and love, pigs, cows, chickens, and other farmed animals are sensitive and intelligent, and they will fight for their lives.
If these stories touch you, but you're still consuming animal products, it's time you aligned your food choices with your values. Choose compassion and leave all animal products off your plate.
Click
here
to get your free
Vegetarian Starter Guide
today.