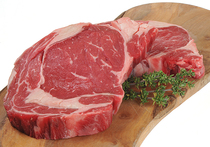 In a
recent study
, the
American Cancer Society
examined the eating habits of 184,000 Americans. A total of 2,315 of these participants were diagnosed with colon or rectal cancer.
Researchers found that the incidence of cancer was highest in participants who frequently ate red meat, which contains many cancer-promoting elements, including excessive amounts of fat, protein, and iron, and heat-induced mutagens.
Past studies
corroborate the correlation between meat consumption and an increased risk of colon cancer. However, this new study found that those who regularly ate red meat had an increased risk not only of developing colon cancer, but of dying from it compared to those who ate less meat.
Adopting a healthy and humane vegan lifestyle is not only
good for your health
, it's good for
animals
and the
planet
. For more information, delicious recipes, and tips on transitioning to a plant-based diet, please visit
ChooseVeg.com
.