Over the last three weeks, Mercy For Animals held eleven head-turning demonstrations throughout Texas and Louisiana, asking the public why we call some animals "pets" and others "dinner." MFA's "Why Love One but Eat the Other?" tour started at the
American Meat Industry Expo
in
Dallas, TX
, and continued to Austin,
Houston
,
McAllen
, Corpus Christi,
San Antonio
, and
Beaumont
, TX, and from there on to Louisiana, hitting New Orleans,
Baton Rouge
,
Alexandria
, and
Shreveport
. The eye-opening demonstrations featured MFA's newest pro-vegetarian mascot – a 10-ft inflatable puppy crammed inside a hamburger bun.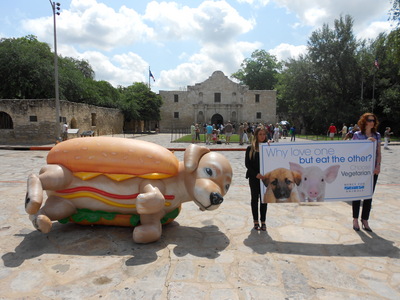 The creative visual caught the attention of news media and passersby in each city visited – creating a valuable platform for talking about the ethics of vegetarian eating. Local radio stations, newspapers and television, which included a live, in-studio interview, covered the demonstrations, exposing millions of viewers to the
cruelty
farmed animals are subjected to for their entire lives.
Local volunteers joined MFA's National Campaign Coordinator
Phil Letten
and intern Krystina Tucci in distributing vegetarian literature and holding signs with the words, "Boycott Animal Abuse, Choose Vegetarian" and "How Much Cruelty Can You Swallow?," revealing the truth behind the unnecessary abuse inflicted on farmed animals by the meat industry.
In an interview with Alexandria's
The Town Talk
, Letten explained, "Cows, pigs and chickens are living animals just like dogs and cats. All animals suffer pain and experience pleasure and are deserving of the same consideration and respect."
For more information on how to adopt a compassionate lifestyle, go to
ChooseVeg.com
.
Click here
for your free
Vegetarian Starter Kit
.
Photos courtesy of Sylvia Elzafon.