A courageous cow made a valiant
run for his life
when he escaped the Jamaica Archer Live Poultry and Meat Market in Queens, New York.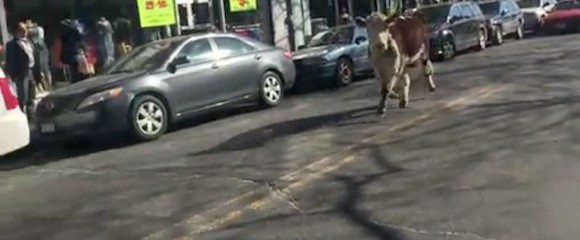 Cell phone video captured the confused animal's journey through the city streets as he tried to orient himself. One onlooker can be heard saying, "Just imagine how scared she is. Indeed.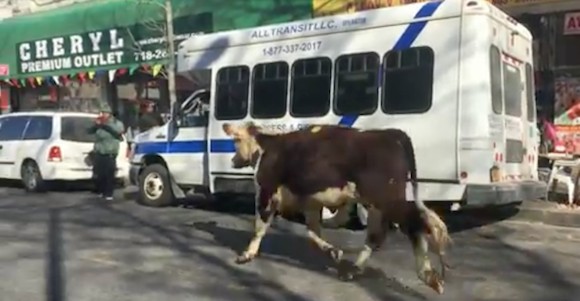 One can only imagine how frightened and stressed any farmed animal would be running for dear life in a loud and busy urban setting.

Watch the video:
Thankfully, this animal's brave escape paid off. Although he was corralled by the NYPD and brought back to the slaughterhouse, Mike Stura of New Jersey's Skylands Animal Sanctuary
waited all night
for the cow and was allowed to take him to safety in the morning.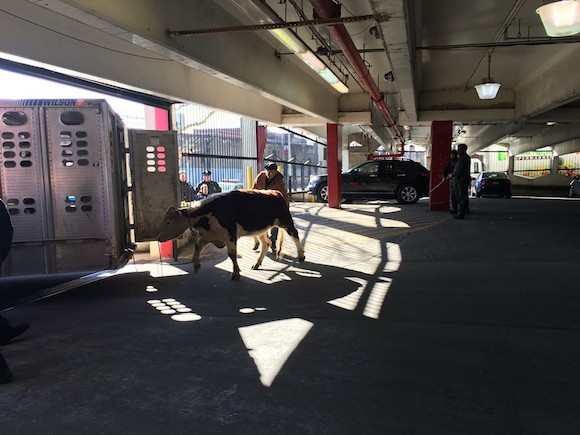 "We just gave it to him, said Tahmena Shafqat, an employee at the slaughterhouse. "We didn't want any money.
While this is wonderful news for the cow (now known as Freddie), billions of other animals are
not so lucky
.
Heartbreaking
stories
are not uncommon. We've shared several
accounts
of farmed animals who have fled transport trucks and slaughterhouses. All animals suffer and value their lives; none volunteers to be killed for meat.
If the video of this cow touches you but you're still consuming animal products, it's time you aligned your food choices with your values. Choose to leave cows and all other animals off your plate. Click
here
to get your free
Vegetarian Starter Guide
today.
Photos via Twitter @NYPD103Pct