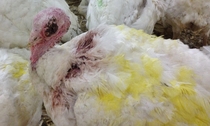 A
recent Mercy For Animals Canada undercover investigation
documented horrific abuse against turkeys, including workers kicking, throwing, and beating turkeys with a shovel, and birds with gaping, festering wounds left to suffer without any veterinary care. The company, Hybrid Turkeys, repeatedly claimed this was an isolated incident.
Now, shocking new allegations from a number of whistleblowers reveal that far from being an isolated incident, the cruel treatment of turkeys is a pattern across Hybrid Turkeys facilities. Despite receiving numerous reports of abuse and injuries, management has repeatedly shown a callous disregard for the well-being of birds.
Nicole Janssen, a former Hybrid Turkeys employee,
says that birds would go days without food
, carcasses were left to rot in pens for other birds to eat, and so many birds had to be put down because of improper handling procedures that the company couldn't keep up with their disposal.
Ms. Janssen stated that her fellow employees "were ripping off wings. They were ripping off feet. They were brutalizing these birds." She reported her concerns to management, but nothing was done. Eventually, she was forced to quit because the abuse was too hard to watch.
Another whistleblower
, who worked at the same farm as our investigator, says injured birds were not treated. He saw birds with raw and bloody backs, broken wings, and swollen eyes. Despite raising concerns with a supervisor and even a manager well over a year ago, Hybrid Turkeys took absolutely no corrective action.
"I was told as long as they're doing their jobs laying eggs, they stay alive," he said.
Hybrid Turkeys has tried to claim injured birds were in "recovery pens," but as documented by Mercy For Animals Canada and now corroborated by the former employee, there were no recovery pens. Trying to cover up their disturbing culture of animal abuse, Hybrid Turkeys has outright lied to consumers.
Concerned consumers can boycott the turkey industry altogether and choose healthy and compassionate alternatives.
Chooseveg.ca
has exciting and delicious recipes, tips and more.