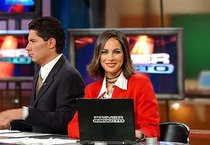 Millions of people were exposed to the horrors of factory farming when
Univision
, the third-most watched television network in the United States, profiled MFA's groundbreaking undercover investigations on its hit news program
Primer Impacto
. The comprehensive piece, which featured MFA's investigation into a
Butterball turkey factory farm
in North Carolina and an interview with Matt Rice, MFA's director of investigations, aired throughout the United States and across Central and South America.
Primer Impacto
is the highest-rated Spanish-language daily afternoon news program in the United States, outperforming syndicated English-language counterparts
Inside Edition
,
Extra
, and
Insider
in the 18-34 age demographic.
The more people are exposed to the inherent cruelties involved in raising and killing animals for food, the more they are leaving them off their plates in favor of healthy and humane vegetarian alternatives. In fact, according to a study by economists at Kansas State University, consumer demand for all types of meat is significantly reduced when media attention is given to animal welfare issues.
Interested in cutting back on meat after watching MFA's
undercover investigations
? Here are some
helpful tips
to get you started on a path toward a healthy and compassionate vegan lifestyle.