This weekend at Chili's restaurants across the United States, dozens of animal advocates came out to hold Chili's accountable for its failure to adopt a meaningful chicken welfare policy. Demonstrators stood silently in front of Chili's to inform customers about the cruelty inherent in the company's supply chain.
Chili's allows its suppliers to treat chickens in ways that
Burger King
, Panera Bread, Subway,
Jack in the Box
, Red Robin, TGI Fridays, and dozens of other restaurant chains consider too cruel. Chili's allows its suppliers to shackle chickens by their feet, drag them through electrified water, and slit their throats, sometimes while the chickens are fully conscious.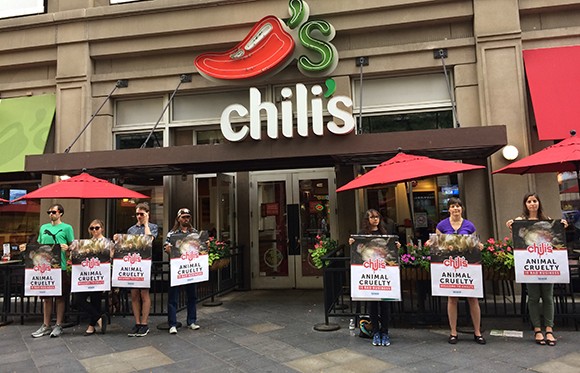 The demonstrations took place in major cities from California to New York. In L.A., our abused chicken mascot, Abby, posed for photos and gave customers a glimpse into the lives of chickens at farms like those that supply Chili's. In Minneapolis, customers turned away from the restaurant after being informed of our campaign. Customers told volunteers they were calling to let the restaurant know that they wouldn't be eating at Chili's until it adopted a meaningful chicken welfare policy.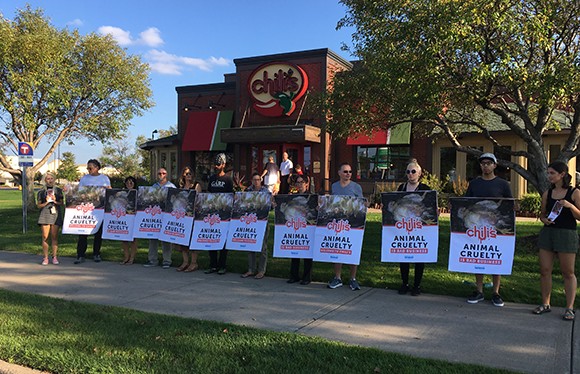 Our demonstrations sent a message to Chili's, but that message will be even stronger with your support. Take the following actions to urge Chili's to do the right thing:

-Call Chili's customer service at 1(800) 983-4637; press 2, then 2 again. Let them know that you've heard about our demonstrations and that you won't be eating at Chili's until they make a meaningful commitment to chicken welfare.
Of course, the best way to help chickens and other farmed animals is to leave them off your plate. Check out these
six amazing vegan subscription boxes
filled with delicious cruelty-free products.