Animal advocates across Toronto have been showing up in droves to protest Swiss Chalet, a popular Canadian restaurant chain, for failing to adopt an effective animal welfare policy that would ensure chickens in its supply chain are protected from the worst forms of abuse.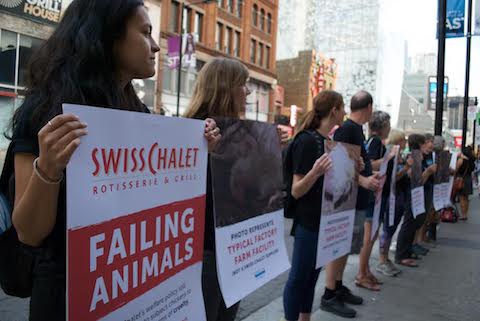 As part of Mercy For Animals' Toronto Actions for Animals, activists have been coordinating protests outside Swiss Chalet restaurants around Toronto and in front of the Toronto Stock Exchange, where Swiss Chalet's parent company, Cara Operations, is publicly traded.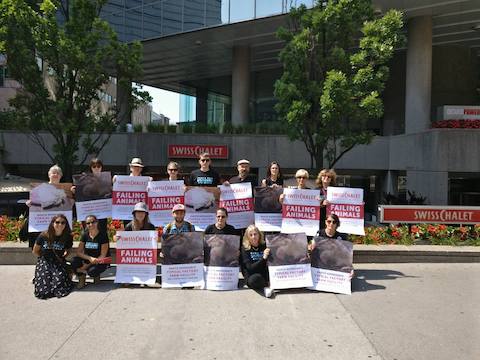 Most chickens killed for meat in Canada are crammed into dark, windowless sheds by the thousands. They are bred to grow so large, so quickly, that they often cannot even walk without pain and struggle to reach food and water. Many die from painful heart attacks or organ failure because their bodies simply can't keep up with their rapid growth.
When they are only a few weeks old, they are roughly slammed into transport crates and trucked to slaughter.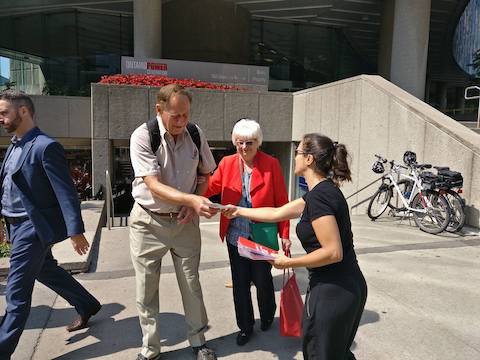 Unlike many of its competitors, such as
Burger King
,
Starbucks
, and
Boston Pizza
, that have pledged to end many of the worst forms of animal abuse in their supply chains, Swiss Chalet has failed to publicly commit to an effective animal welfare policy to adequately address most of these issues.
It is time for Swiss Chalet to publicly adopt an effective animal welfare policy to ensure birds killed for its restaurants aren't being tortured.