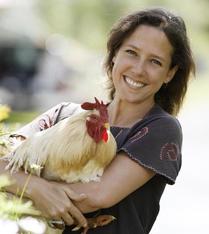 Jenny Brown is the co-founder and director of
Woodstock Farm Animal Sanctuary
, an Upstate New York fairytale home to hundreds of rescued farmed animals. In a new book titled
The Lucky Ones
, Jenny tells the heartwarming story of her transition from a documentary film professional to a tireless advocate for farmed animals. MFA was lucky enough to speak with Jenny about her exciting new book, the important work of Woodstock Farm Animal Sanctuary, and her brave mission as an undercover investigator in a Texas stockyard.
MFA: What led you to become an advocate for farmed animals?
Jenny Brown: I was 18 years old when I picked up some literature at school about the various ways we mistreat animals, including the animals we eat. I went vegetarian that very day and began looking further into fur, animal testing, animals used in entertainment, and animals used for food. It was an awakening for me. During college in Chicago, I met a woman from PETA while I was waiting tables at the Chicago Diner. She was in town managing a fur protest in front of one of the major department stores, and I asked if I could videotape it for a documentary production class. The event rocked my world and I told her I wanted to become more involved.
That's how it started. From there on, I did several undercover assignments for PETA--not actually obtaining a job at a facility that was abusing animals, but getting in however possible and obtaining footage. My most notable accomplishment was getting inside a pregnant mare urine (PMU) farm in North Dakota, where pregnant horses are kept in a factory farm environment to collect urine used in a drug called Premarin. Millions of women take Premarin for estrogen during menopause. The foals from these farms are typically sold for slaughter for meat to Asian countries. That footage aired in three countries and helped expose the miserable lives the horses endure for Premarin.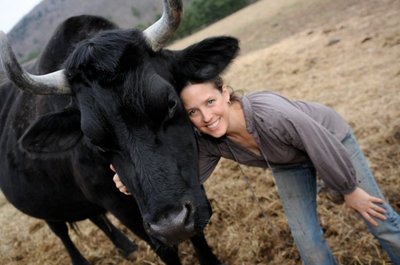 MFA: What was your inspiration to start Woodstock Farm Animal Sanctuary?
Jenny Brown: In 2002, I learned about Farm Sanctuary and became increasingly interested specifically in farmed animal issues. It was a visit to Farm Sanctuary and meeting Gene Baur that led to my undercover assignment to film downed animals--animals too sick or injured to stand up on their own, who are often left to linger for days until a slaughter-bound truck arrives--at various "livestock" stockyards in Texas. That visit changed my life.
Weeks after that trip, I started the biggest job of my professional film career: co-producing and directing an hour-long documentary for Discovery Channel. During the job, I realized that my heart was no longer in the work. I was engulfed by my despair about the abuse of farmed animals, so I packed up my bags and went to work for Farm Sanctuary--learning all that I could about the care of rescued farmed animals and what it takes to operate a sanctuary.
I worked there for almost a year and left with a heap of knowledge under my belt, and the ambition to start a sanctuary of my own. Months later, Doug Abel and I bought a property in Woodstock and built the entire place from the ground up. Farm Sanctuary knew this was ultimately my goal, and in exchange for the hands-on education they gave me, Doug and I work on a number of videos pro bono to help with their fundraising and education efforts.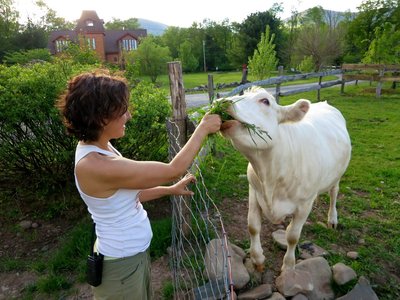 MFA: What situations do most of Woodstock's animals come from?
Jenny Brown: Many of our animals come from the streets of New York City because of the presence of over 100 "live-kill" markets throughout the five boroughs. Most of these markets are storefront businesses that cater to various cultures and religions and aren't even recognizable as slaughterhouses. You can literally walk in and choose a chicken, turkey, goat, lamb, or calf and wait for them to be slaughtered and butchered. Many animals escape when being loaded in from farms and are picked up by Animal Care and Control or the ASPCA--and Woodstock Farm Animal Sanctuary is here to accept them. Others come from hoarding or neglect cases and some are escapees from well-known slaughterhouses who make the news and are spared due to public outcry. For those we don't have room for, we work diligently to find loving homes for them.
MFA: Tell us about your new book The Lucky Ones.
Jenny Brown: I was approached by several literary agents after a big story appeared in the
New York Times
about myself and a little goat named Albie, who was found in a park in NYC. I have an artificial leg below my right knee and I was having a leg made for little Albie, who had to have his leg amputated due to a terrible bone infection that could not be treated. That story sparked a lot of media attention and support from around the world, as well as a book deal!
People are inspired by my personal story of growing up in Louisville, KY, in a conservative Southern Baptist family that ate a lot of animals, my personal transformation to veganism, leaving a lucrative and sought-after career in film, my undercover work, and founding a sanctuary for farmed animals. That seems pretty cool, right?
The Lucky Ones
is a memoir with a mission: writing the book with my friend and fellow activist Gretchen Primack allowed me to share my knowledge and firsthand interaction with farmed animals, and to share my perspective on the morality of our eating habits. I really put myself out there personally--even including a photo of myself at 16 in my McDonald's uniform.
My hope is that my story of overcoming adversity as a bald and skinny one-legged cancer kid and finding my passion in helping the voiceless among us will inspire others to re-examine their views of farmed animals and see them as the sentient beings they are. Of course, the ultimate goal is to turn everyone who reads it vegan. I'll shamelessly just put that out there. My fight is not just against factory farming--it's against animal agriculture period.
MFA: Undercover investigations are crucial to expose animal abuse. What was the most challenging aspect of being an undercover investigator?
Jenny Brown: Getting access and getting over my nerves! Ultimately, the biggest challenge was seeing the misery that animals were enduring and not being able to help those individuals directly. I wanted to free them all--as any animal lover would--but I knew that by filming the abuse, others could bear witness to the mistreatment and that would help more animals through awareness.
MFA: In The Lucky Ones, you reveal what has been an incredibly busy and constantly changing life. What is next for you?
Jenny Brown: I will always work to change the way our society views and treats farmed animals. Woodstock Farm Animal Sanctuary not only rescues farmed animals in need--we also advocate on their behalf through educational tours and outreach events. Given our location, hundreds of people come through our doors to see and learn more about farmed animals. We have the unique opportunity to introduce the public to happy, socialized animals who love attention and affection.
Most people have never met a pig or a cow or a chicken, much less ones with names who are living in a loving, respectful environment. Here, when you meet Andy the pig and give him a big ol' belly scratch, people learn how others just like Andy are living and dying before becoming bacon. The majority of our society has never been in contact with the animals they only know as food, much less looked into their eyes and put a face to their food. We try to show them that these animals are all someones, not somethings. We are on the front lines of activism and this is our chosen path of advocacy because it is very effective. Plus, we get to be around the animals we're fighting for on a daily basis. We love them dearly!
Click here
to purchase your copy of
The Lucky Ones
today.
To learn more about making the transition to a kind and compassionate vegan lifestyle, visit
ChooseVeg.com
.