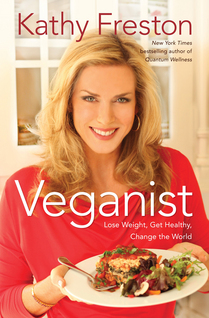 Kathy Freston is a
New York Times
best-selling author whose focus is healthy living and conscious eating. After
inspiring Oprah
and her entire staff to go vegan for a week, her newest book,
Veganist: Lose Weight, Get Healthy, Change the World
, is flying off bookstore shelves, and has skyrocketed to the number one spot on Amazon.com.
Kathy promotes a body/mind/spirit approach to health and happiness that includes healthy diet, emotional introspection, spiritual practice, and loving relationships, among other tenets. She continually cites the proven value of "leaning into" change and the benefits of "progress, not perfection."
MFA was lucky enough to sit down with Kathy for an exclusive interview to discuss her new book, undercover investigations, Oprah, and the many benefits of a vegan diet.
Your book, Veganist: Lose Weight, Get Healthy, Change the World, has inspired Oprah Winfrey, and her entire staff, to go vegan for a week. Considering millions of people are inspired by Oprah's wisdom every single day, what is it about your approach that made you Oprah's inspiration?
Well, I don't know that I was Oprah's inspiration, but rather I think she is someone who is always pushing herself to become more and more conscious, thoughtful, and evolved as a human being. So eating consciously makes sense to her. Oprah said she likes the "lean into it" approach, so that you can gradually move toward healthier and more thoughtful choices. It's hard to change your food choices overnight, so the "progress, not perfection" is appealing to most people who are new to eating vegan. Oprah is also very much a teacher, and she likes to share information that she sees as useful to living your best life!
You say you, like a lot of Americans, grew up on chicken-fried steak and cheesy grits, and loved nothing more than BBQ ribs and vanilla milkshakes. What advice do you have for someone who wants to go vegan but isn't sure about giving up the foods they know and love?
I didn't want to give up the things I loved either! So what I did - and what I recommend - is just to veganize your favorite meals. If you like spaghetti with meatballs, have the exact same pasta and sauce but use meatless meatballs instead. If you like burgers and hot dogs, just use the veggie versions instead. If chicken and mashed potatoes is your meal of choice, simply substitute Gardein Chik'n (which is a vegan chicken patty) and make your mashed potatoes with nondairy milk and Earth Balance instead of butter. Once you realize that these foods are just as fulfilling as your old favorites, you'll see that this way of eating is actually quite doable. It's all about ease, comfort, and tradition.
What is the difference between a vegan and a veganist?
I landed on the term "veganist" because the "ist" refers to "one who studies, or one who does"; so a veganist is someone who looks closely at his food choices and opts for a plant-based diet for reasons of health, concern for animals and the environment, and a sense of living consciously. Just like an artist is deeply interested in incorporating art into his life, or a violinist identifies himself with his passion for the instrument, a veganist is super interested in all the positive aspects of a vegan diet.
Two of Mercy For Animals' undercover investigations are discussed in Veganist: the investigation at Willet Dairy, the largest dairy in New York state; and the investigation at Gemperle Enterprises, a battery cage egg facility in California. What was it about these investigations that you thought was so important for people to know?
These two stories just slayed me. They were so well documented, so completely lucid with regards to what happens to animals in industry. The stories were not filled with hyperbole or judgment, just facts and observations. I really think the vast majority of people simply have no idea what goes on with animals in the food industry. I didn't. It's stories like these that illuminate the truth and help us to live closer to our values of kindness, compassion, and mercy.
In Veganist, you give readers ten game-changing promises about leaning into a vegan lifestyle. What are the top three results people can expect by being veganists?
By being a veganist, you lose weight effortlessly and keep it off. Not only does vegan food have naturally low fat, but it also has a lot of fiber. Fiber fills your stomach and tells your brain that you are full and satiated, thereby turning off the "eat more" signal. It also has a high thermic effect (calories burned as body heat during digestion) which amps up your metabolism. When you eat vegan food, your after-meal metabolism increases so that it's 16% faster for around 3 hrs after every meal!

Secondly, your health just soars on a veganist plan: within 2 weeks, your blood sugar and blood pressure drop and within 3 weeks your cholesterol drops significantly. There are also very substantial studies that say you are preventing, halting, and even reversing some cancers when you eat no animal foods.

Another great result of being a veganist is that you save money both short term (on groceries... beans, grains and frozen veggies are super cheap) and long term (health care is very expensive, so if you stay healthy, you save money! And taxes for health care, we all know how high that goes...)
The National Restaurant Association lists veganism as a "hot trend" for 2011. A recent report indicated that vegetarianism has gone up 50 percent and that veganism has doubled on college campuses in the last four years. In the last year, billionaire casino mogul Steve Wynn, former President Bill Clinton, heavyweight boxing champion Mike Tyson and many more high-profile figures have embraced plant-based living. Why do you think veganism is now becoming more mainstream?
I think veganism has gained so much momentum because there are multiple forces working in tandem: 1. There is much more exposure - because of groups like Mercy For Animals - about what really happens to animals as they become food. People see that and there is a gut reaction that it's not right. 2. Many, many peer-reviewed studies have come out proving without question that plant-based food is superior for our health, insofar as preventing and reversing obesity and disease. 3. The environment has become a cause célèbre, and the single best thing you can do to be a good steward of the environment is to steer clear of animal foods. 4. There are widely published reports nearly every month about meat or eggs being contaminated and recalled, which creates an "ick" response. 5. Because delicious vegan foods are more plentiful, whether as restaurant offerings or cookbook recipes or convenience foods or plant-based substitutes for the things we grew up loving. All of these things are coming together at once, and it's pushing veganism toward a tipping point!