On the heels of similar announcements by
Einstein Bros. Bagels
,
Burger King
,
Chipotle
,
Noodles & Company
, Quiznos, Panera Bread, Starbucks, TGI Fridays, and
Pret A Manger
, Jack in the Box, parent company of Qdoba Mexican Eats, just
announced
that it is taking steps to end some of the worst forms of animal abuse in the restaurants' supply chains by 2024. The company, which has more than 2,800 restaurants, made the announcement after an extended public awareness campaign by Mercy For Animals. Jack in the Box and Qdoba's commitment will significantly reduce suffering for millions of chickens.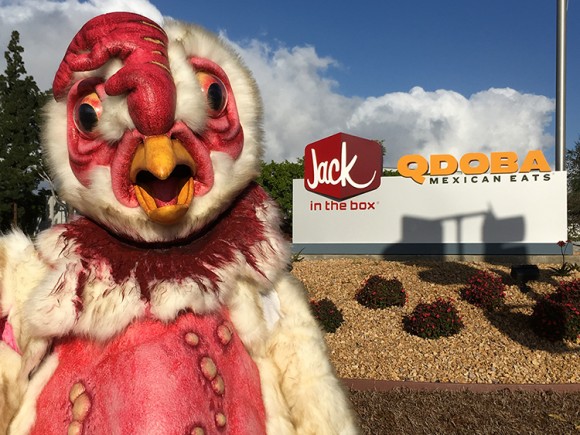 MFA's campaign included an online petition that gathered more than 90,000 signatures, leafleting at Jack in the Box's shareholders meeting, and numerous actions on social media. Students across the country petitioned their schools to remove Qdobas from campuses, and at hundreds of Qdoba locations, diners were served "geofenced" ads on their phones. Two of Jack in the Box's largest institutional investors were also the subject of social media campaigns for profiting from chicken torture.
Jack in the Box and Qdoba will require that their suppliers transition to birds with measurably higher welfare outcomes, make several improvements to the animals' living environments, and replace live-shackle slaughter with less cruel systems that will spare millions of birds from the horrific suffering caused by dumping, shackling, shocking, and slitting the throats of conscious animals.
Their commitment represents a growing trend in the food industry: recognition that today's consumers demand companies adopt comprehensive animal welfare policies to end some of the most horrific forms of cruelty in modern supply chains.
Now it's time for Wendy's, a restaurant chain that still allows its suppliers to torture chickens used for its food operations, to take the same public action as Jack in the Box and Qdoba.
Click here
to sign our petition calling on Wendy's to publicly adopt a comprehensive chicken welfare policy!
Thank you for speaking up on behalf of animals. While Jack in the Box and Qdoba's commitment will improve the lives of countless chickens, the best way we can help chickens is to
leave them off our plates
.