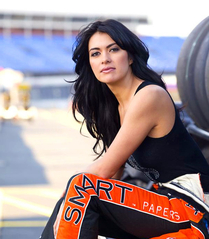 NASCAR fans are in for a big surprise on the racetrack. Racer Leilani Munter, who is known for supporting environmental causes, plans to raise more than a few eyebrows when she debuts her
"VegNation" racecar to promote a vegan lifestyle
.
In a culture that's known more for steak than seitan, Munter is looking forward to opening a dialog with racing enthusiasts about reducing their meat consumption and encouraging them to find vegan alternatives to the foods they already love. Munter explains: "If you were to look at my fridge, it would look very similar to somebody else just down the street. It's just my sausage links will be a vegan version of that."
Many of environmentalist Munter's fans have confided in her that they can't afford expensive electric cars or solar panels and feel frustrated about what they can do to help the planet. She plans on urging people to scale back on eating animal-based products by explaining their negative impacts on the environment and climate change.
She is also happy to talk to people about
health
and
animal cruelty
issues as well. "It's just better for our climate, the animals, our own bodies--whatever reason they decide to look at that change, that's what I want to focus on."
With support from the nonprofit group 1% for the Planet, NASCAR fans can look forward to VegNation hitting the track later this year. For more on Leilani Munter, visit
carbonfreegirl.com
. For tips on transitioning to a delicious and green, vegan diet, visit
ChooseVeg.com
.