A group of over 30 MFA staff and volunteers recently gathered for a demonstration in front of a Walmart in Barueri, a city just outside São Paulo. They were protesting the cruelty that Walmart still allows in its egg supply chain in Brazil.
The group handed out dozens of leaflets and discussed the problem with passersby. The demonstration made headlines, appearing in several Brazilian news articles in the days following.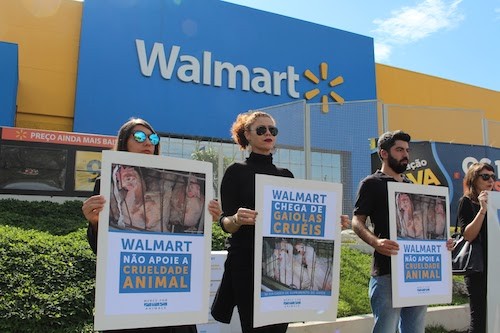 After the demonstration, MFA met with Walmart executives to present them with over 130,000 signatures collected as part of a petition to end the worst forms of cruelty in the company's supply chain.
During the meeting, Walmart executives expressed their concern about the issue and discussed pursuing a way to make their egg supplies entirely cage-free.
Caged hens are some of the most abused animals on the planet. They are stuffed into wire cages so small the birds can't walk, spread their wings, or engage in any other natural behaviors. Many birds become tangled in cage wire or trapped under feed trays and often die from injury or starvation.
See for yourself:
Walmart has the responsibility and the power to ensure that the products its sells are not the result of flagrant animal abuse.
Join our staff and volunteers in Brazil by urging Walmart to protect birds from a life of misery. Click
here
to sign our petition.
Of course, the best way to help farmed animals is to leave them off our plates and switch to a delicious and compassionate plant-based diet. Click
here
to get started!