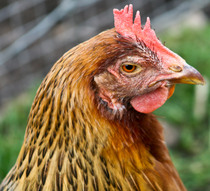 As if
rampant animal abuse
weren't reason enough to ditch meat, now chicken-eaters have another serious reason to adopt a vegan diet: salmonella.
According to the Food Poisoning Bulletin, "Health officials in Oregon and Washington have identified Foster Farms brand chicken as the most likely source of the 95 infections in those states. The company has not issued a recall."
Industry journal
Meating Place
states: "A Salmonella outbreak linked to chicken produced by Foster Farms has sickened 128 people in 13 states, according to the latest information from the Centers For Disease Control and Prevention (CDC). Most of the cases are in Washington (56) and Oregon (39), a total of 32 people have been hospitalized."
As victims of salmonella poisoning suffer from diarrhea, abdominal cramps, fever, and sometimes death, meat industry giants continue to threaten human health, the environment, and animal welfare.
The best way to protect your health and prevent needless cruelty to chickens and other animals is to transition to a compassionate, vegetarian diet. To learn more, visit
ChooseVeg.com
.