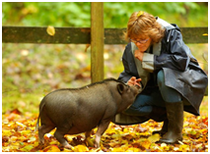 Hearts on Noses
in Mission, BC is a home to pigs who have been injured, abused, neglected and abandoned. In addition to over 40 pigs, proprietor Janice Gillett cares for horses, cats, a dog, and a turtle - and she does all of this while working full time.
It's easy to see that Janice loves the animals under her care. From the beautiful home she maintains for them, to the compassion that shines though in the stories she tells about the animals, to her email signature tag, which reads: "I walked into the heart of a friend, and found a home," it's clear that the residents of Hearts on Noses are in good hands.
Janice was steeped in a rescue ethic throughout her childhood. For 40 years, her mother volunteered for a spay and neuter society for low-income families, sewing and baking for their fundraisers and attending their events. Janice's family also adopted some of the cats.
She still lives with cats today, but the bulk of her brood is pigs. Janice has rescued Yorkshire pigs (typically raised to be used as food), potbellied pigs, and feral pigs.
One of the pigs who lives at Hearts of Noses, Comet, was initially spotted by Janice for sale on Craigslist by a breeder. The ad read, "rare white exotic pot bellied pig." Janice looked away, reminding herself that she can't help them all and finding comfort in the thought that perhaps if someone paid for him they might value his life as well.
During that time, Janice was seeking adoptive homes for ten piglets who had been born to one of her recent rescues. She received a call about those piglets; a woman wanted to know, "Are your pigs nicer than the evil white one I bought?" Janice realized that this was the pig she had seen on Craigslist, and after some questioning, discovered that, despite it being a beautiful, sunny day, the baby pig was in a rabbit cage in the woman's basement.
Rather than returning the pig to the breeder, the woman was encouraged by Janice to bring the pig to Hearts on Noses, where this Yorkshire-potbelly mix now lives a happy life.
Another time, Janice received a call from a man who had seen an injured pig on the side of the road. He called the SCPA, but was told to call the city, who has jurisdiction over "livestock." Thankfully, he called Janice, who immediately went to where the man was waiting with the big-eared Yorkshire piglet whose back leg was sticking up in the air.
After living in Janice's kitchen for a few days and recovering from the shock and hunger of her harrowing time on her own, the piglet, Rose, started to cry out in pain. An X-ray revealed that Rose's hip was shattered. Rose was given the care that she needed and sent home to recover. Today, she can't bear weight on her injured leg, but she uses it to balance herself - and she can run!
Janice reports that all of the pigs who live at Hearts on Noses enjoy good food, laying in the sun, wallowing on warm days, grazing on pasture, and trying to get into the feed shed.
To anyone who wants to help farmed animals, Janice says simply not to eat them. As long as animals are being raised for food and people continue to eat them, cruelty will continue to exist. In Janice's words, "producing animals and supporting animal factories is legal animal cruelty."
Learn more about Hearts on Noses
here
, and if you're in the lower mainland area, consider spending some time volunteering at the sanctuary. You can also download a free Vegetarian Starter Kit at
www.ChooseVeg.ca
.