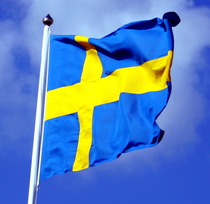 Pass the Swedish Fish! A recent post by "
The Local
," a Swedish news publication, highlights the rising number of vegetarians in Sweden. Nearly 10 percent of the country now identifies as vegetarian or vegan, with young people leading the way.
According to a recent poll conducted by Animal Rights Sweden, in the last five years, the number of Swedish vegetarians has increased by 4 percent.
The post further states that "37 percent of non-vegetarian respondents said their interest for buying vegetarian food had increased over the past year." A representative of the animals rights group commented that the heightened demand for vegetarian food was "noticeable everywhere."
It should come as no surprise that growing numbers of people are embracing veganism -- it's better for our
health
, the
environment
, and the
animals
. In fact, these same motivators are largely responsible for the over
12 percent drop
in American meat consumption since 2007.
Be sure to check out
ChooseVeg.com
for many delicious recipes and helpful tips on transitioning to a healthy and humane vegetarian diet.