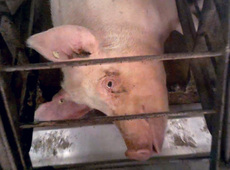 Today, after eleventh hour behind-the-scenes discussions with Mercy For Animals, both Costco Wholesale, the second largest retailer in the US, and Sears Holdings Corporation's subsidiary Kmart, the third-largest discount store in the world, announced that they would eliminate gestation crates from their pork supply chains.
In a letter addressed to Costco Wholesale's pork suppliers, Doug Schutt, Executive Vice President of Merchandising said:
Here at Costco we are encouraging you to make this transition: we want all of the hogs throughout our pork supply chain to be housed in groups with access to safety zones and expect that this transition should be accomplished no later than 2022.
Sears Holdings
issued a public statement
promising that the company "will work to eliminate gestation crates from our supply chain as it pertains to the production of pork products." Robin Michel, Sears Holdings' senior vice president and president for grocery, drug, and pharmacy said:
We believe that a gestation crate-free environment is more humane and we support and appreciate the efforts of pork suppliers to reduce and eliminate the use of gestation crates.
"Mercy For Animals applauds both Costco's and Kmart's commitment to eliminate one of the worst forms of institutionalized animal abuse in existence," said Nathan Runkle, Mercy For Animals' executive director. "We praise these companies for acknowledging that this cruel system is unsustainable and must be phased out. By speaking out against these inherently cruel crates, these top retailers are taking a positive step forward in improving animal welfare."
Recently MFA conducted an undercover investigation into Christensen Farms, a pork supplier to both Costco and Kmart. The hidden-camera video documents thousands of mother pigs forced to live inside narrow metal gestation crates barely larger than their own bodies, piglets slammed headfirst into the ground, workers cutting off piglets' tails and testicles without painkillers, and animals suffering from bloody open wounds. Pigs confined in gestation crates are unable to even turn around, take a step forward or backward, or lie down comfortably for nearly their entire lives. Both Costco and Kmart took swift and decisive action--immediately denouncing the use of gestation crates in their supply chains--after MFA privately presented them with the undercover video.
Costco and Kmart have joined the ranks of several other corporations, including Kroger and Safeway, two of the largest grocers in the nation, and McDonald's, Burger King, and Wendy's, the top fast-food restaurants in the United States, in their commitments to completely phase out gestation crates from their supply chains.
"Costco and Kmart's commitments to transition their pork supply chains should send a strong signal to the pork industry that confining pigs in crates so small they cannot even turn around or lie down comfortably is blatant animal abuse that will not be tolerated by socially responsible retailers," says Runkle.
MFA is now
calling on Walmart
, another customer of Christensen Farms, to quickly follow Costco and Kmart's lead in taking a stance against inherently cruel gestation crates. Today, Mercy For Animals is launching a national campaign aimed at pressuring Walmart executives to adopt a new policy requiring the company's pork suppliers to phase out gestation crates.