Californians are a step closer to voting for the world's strongest farmed animal protection law this November, thanks to the hard work and dedication of animal activists across the state.
Over the past six months, more than 1,600 volunteers—including dozens of Mercy For Animals staff members—hit the streets in the Golden State to collect signatures for the
Prevention of Cruelty to Farm Animals Act
, a historic ballot initiative that would ban the production and sale of meat and eggs from animals kept in cruel, overcrowded cages.
All that hard work paid off: Next week over 600,000 signatures will be submitted to California officials—far more than the 365,800 signatures needed to place a measure on the state ballot. Officials will now review those signatures and are expected to approve the measure for a vote this fall.
As part of the coalition behind this measure, MFA heartily congratulates the selfless activists who worked so hard to make this landmark accomplishment possible. By giving Californians the chance to vote on this measure, they may soon spare millions of animals each year from the horrors of permanent confinement.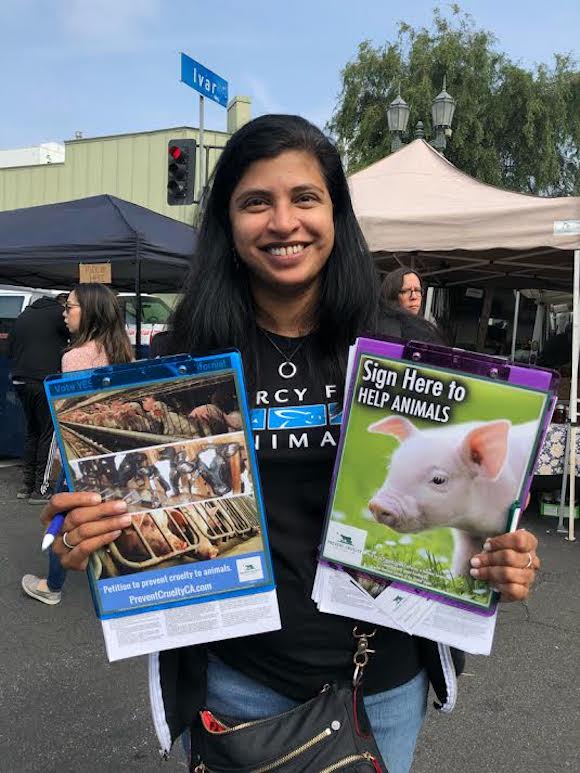 MFA undercover investigations
have repeatedly shown the horrific, nearly lifelong suffering endured by animals confined so densely in battery cages, gestation crates, and veal crates they can barely move an inch.
Confining animals like this is so cruel that a dozen states and hundreds of major corporations have already taken action to prohibit it. This new California measure would join a similar law approved by 80 percent of Massachusetts voters in 2016 as among the first to comprehensively ban the production and sale of all meat and eggs made through cruel yet common forms of confinement. Californians can send a strong message to the factory farming industry by voting to free farmed animals from cages this fall.
Of course, cage-free does not mean cruelty-free, and the best way to prevent animal cruelty is simply to stop paying for it and adopt a compassionate plant-based diet. Click
here
to learn more about switching to a vegan diet.