Deeply personal and approachable,
We Are the Weather
delves into climate change and our responsibility as individuals to help halt the crisis. The book highlights the consequences of transforming our planet into a massive animal-product machine but reminds us that if we all work together, we can
save our planet
—starting with what we choose for breakfast.
Mercy For Animals' president,
Leah Garcés
, got the chance to sit down with Jonathan Safran Foer to ask him about this powerful new book.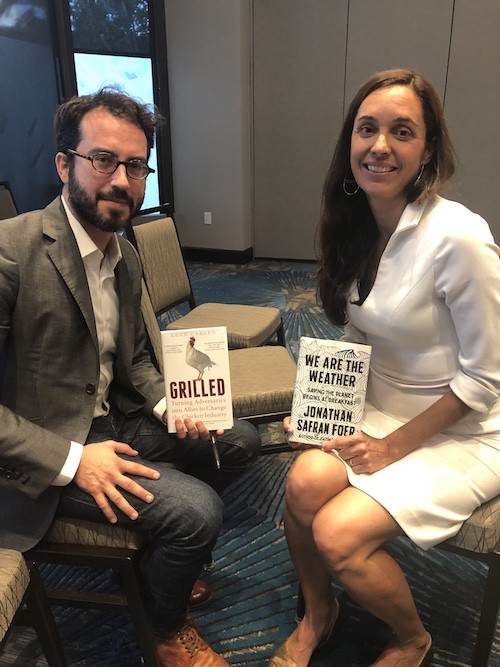 Leah Garcés: What inspired you to write We Are the Weather?
Jonathan Safran Foer: I think I just reached a point where I was so unhappy with my own reaction to climate change, my own inaction, that it just became—I just reached a point where it was intolerable and just kind of said, "Enough, I have to learn more so that I can do more."
Leah Garcés: I was surprised to hear you say that in five years you didn't think half of Americans would be vegetarian but that half of the meals would be. You're that hopeful. Five years.
Jonathan Safran Foer: I think it could happen in two years. These kinds of changes happen quickly.
You mention in We Are the Weather that a surprising outcome of your book Eating Animals was that some of the greatest allies were farmers. Can you speak to that a little?
Jonathan Safran Foer: Yeah. I mean, farmers despise factory farming. And by "farmers," I mean human beings who are farmers, not, like, farm corporations.
Farmers are grossly underpaid. They're almost all in debt. Nobody ever became a farmer because they hated animals or wanted to inflict violence upon them, cruelty. Nobody became a farmer because they wanted to leave the earth in worse shape than they'd found it. But they're being forced into these positions by this completely dominant industry.
So, as we move away from meat, I think we're going to need many more farmers in America growing many different kinds of things—and it's going to be far more lucrative for them.
Leah Garcés: Do you think we can challenge these companies to become different businesses instead of putting them out of business?
Jonathan Safran Foer: I think we're doing that with our habits now. I mean, like, all these guys are investing in plant-based meats AND cage-free and free-range eggs. It's not like they—there's no legislation that forced them to do that. And I don't think there were any values that forced them to do that.
Customers decided they didn't want it, and so they provided what customers want. I think the most powerful way to get them to have different practices—or at least a powerful way to persuade their long-term practices—is to demand different kinds of food.
--
Inspired? You can order a copy of this moving new book
here
.
We can all do our part to help protect the planet by choosing more plant-based foods. For delicious recipes, easy meal ideas, and more, order a
FREE Vegetarian Starter Guide
today.