A group of Mercy For Animals staffers and a few of our incredible supporters recently had the chance to tour the facility to see firsthand how Beyond Meat products are made—and we were not disappointed! Led by Will Schafer, vice president of marketing, the tour included several testing labs, a tasting room where participants give feedback on samples, and a delicious plant-based lunch to conclude the visit.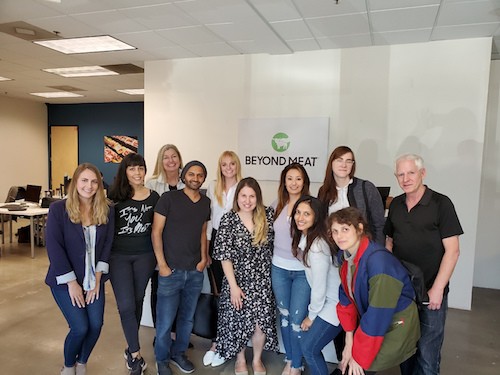 We saw the impressive machines and equipment the teams use to get their products to taste, smell, and look as close to meat as possible. We also learned that their reason for choosing to use pea protein is to accommodate as many people as possible, including those who may have allergies to soy and gluten.
Based in California, Beyond Meat was founded in 2009 with a mission of building meat directly from plants to benefit human health, prevent climate change, conserve natural resources, and support animal welfare.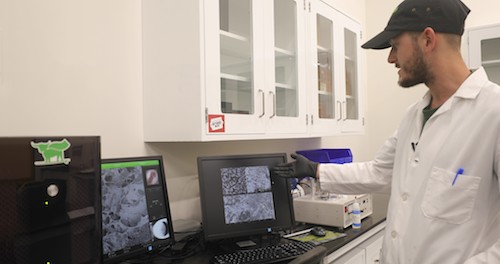 Since launching the Beyond Burger, Beyond Meat has changed the space for plant-based foods and disrupted the meat industry. The company has been the catalyst for athletes such as
Kyrie Irving and Chris Paul
to eat more plant-based foods and share the benefits of a plant-based diet with their supporters.
With major investors like Leonardo DiCaprio, the company continues to innovate and expand. Selling in the meat section of grocery stores and large, well-known chain restaurants like Veggie Grill, Carl's Jr., and TGI Fridays, Beyond Meat has increased accessibility and allowed a larger base to taste and enjoy its products.
The company's rapid growth and popularity reflect the rising demand for plant-based foods. In fact, Beyond Meat just made history as the first publicly traded plant-based meat company listed on Nasdaq! It expects to raise over $180 million from the initial public offering, giving people a unique opportunity to invest financially in a compassionate and sustainable future.
Thank you, Beyond Meat, for hosting us at your facility! I know I speak for everyone when I say we were blown away by all you have done, and continue to do, for animals, people's health, and our planet.
Ready to try these incredible plant-based products for yourself?
Find Beyond Meat
at a store near you.