Chickens in McDonald's supply chain are among the most abused animals on the planet. They are bred to grow so large so fast that many cannot walk without pain. Kept in near darkness for much of their lives, they are often crammed together by the tens of thousands in warehouses, spending day after day on waste-soaked litter. To stand up for animals in these terrible conditions, Mercy For Animals joined forces with other animal advocacy organizations to launch a powerful campaign against
McDonald's cruelty
.
For years, Mercy For Animals has reached out to McDonald's representatives, including former CEO Steve Easterbrook, asking that the company ban the worst abuses for chickens in its supply chain. However, it became clear that McDonald's was refusing to make meaningful changes for animals. This is especially frustrating because hundreds of other brands⁠ and many direct competitors—including Burger King, Starbucks, Subway, Jack in the Box, and Sonic⁠—have committed to banning the cruelest practices inflicted on chickens.
Your own competitors—like Burger King, Subway, Jack in the Box, and so many more—are taking meaningful steps to improve conditions for these animals. We urge you to follow their lead and implement the modest reforms being encouraged by The Humane Society of the United States and other animal protection organizations.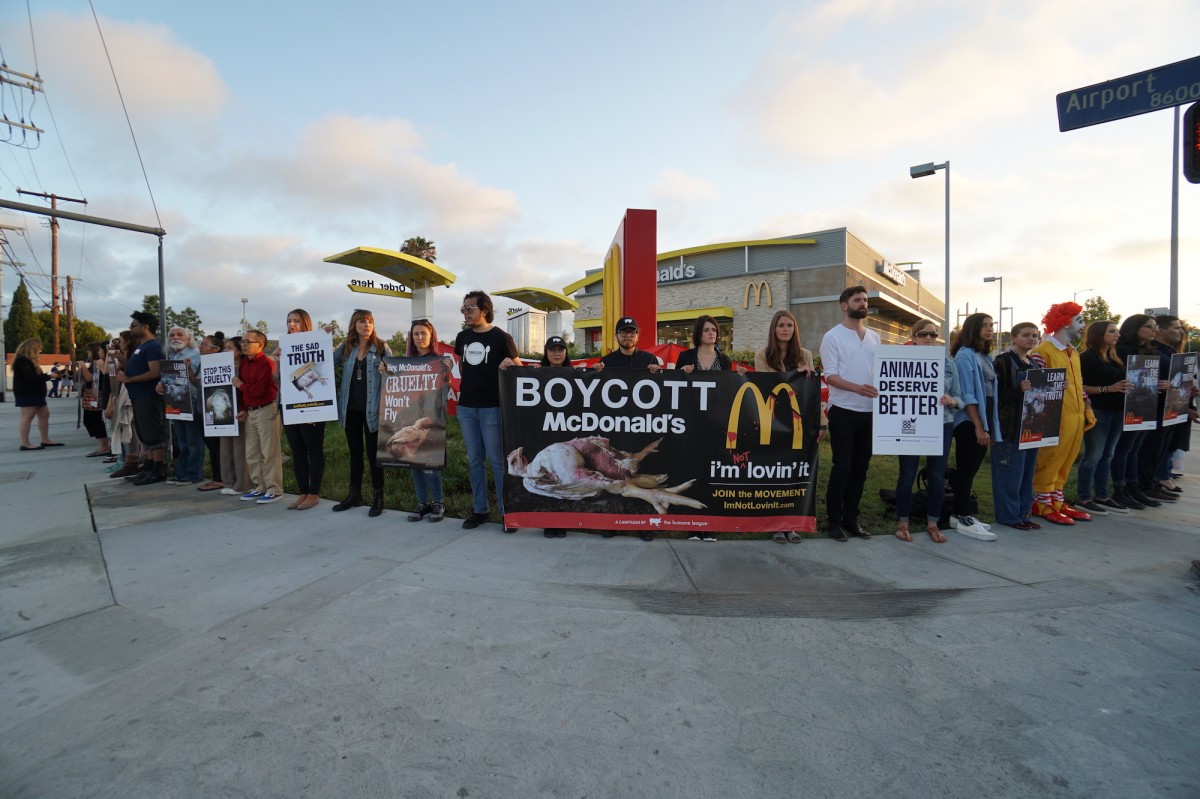 In
August 2018
, New York state comptroller Thomas P. DiNapoli published an
open letter to Steve Easterbrook and Enrique Hernandez
, McDonald's chairman of the board, warning them about the possible financial risks of McDonald's animal welfare practices. DiNapoli is a trustee of the New York State Common Retirement Fund, which as of July 31, 2018, held substantial shares in McDonald's Corporation. The letter reads:
Based upon the Fund's experience as a long-term investor, we believe that the ability to mitigate risks and establish and maintain responsible animal welfare practices are hallmarks of a company with a sound, sustainable and profitable long-term strategy. I would appreciate a response detailing what the company is doing to build on its recent chicken welfare policy and align it with widely accepted best practices like RSPCA and GAP.
In October 2018, Mercy For Animals held a peaceful vigil in front of a McDonald's on Los Angeles' famed Sunset Boulevard. Animal advocates held signs displaying pictures of chickens who had suffered at McDonald's supplier farms and gave flowers to those wishing to pay their respects. Mercy For Animals also handed out informational leaflets to inform the public of the cruelty in McDonald's supply chain.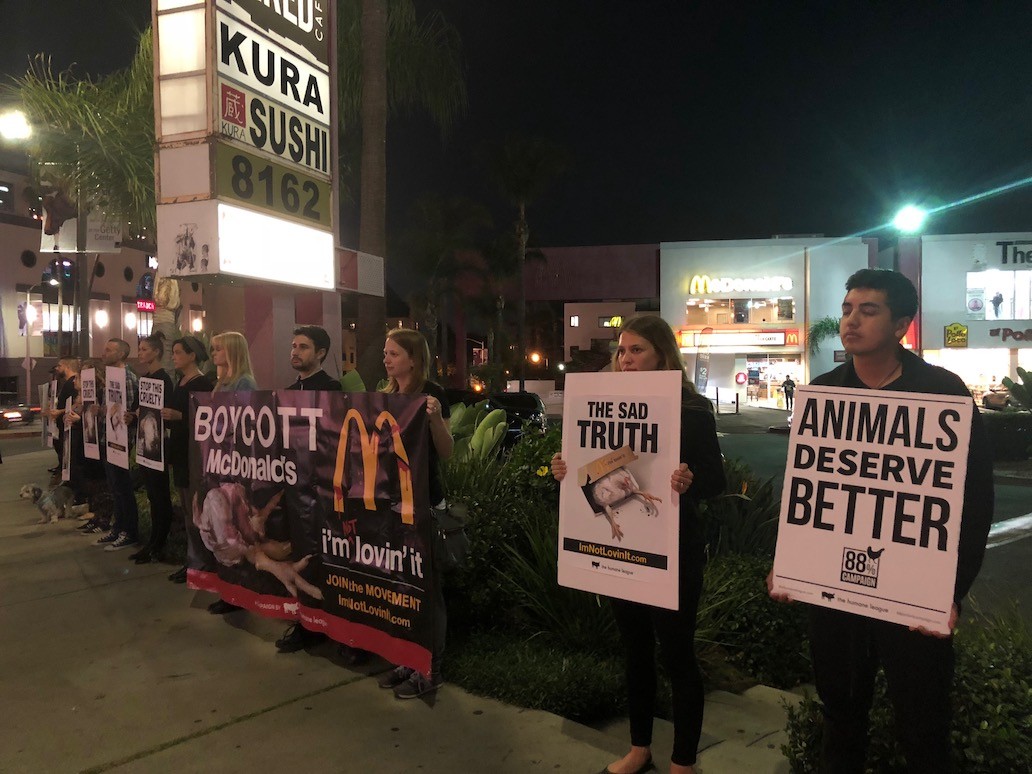 In May 2019, Mercy For Animals and other coalition members met up in Chicago for nearly a week's worth of demonstrations and events outside McDonald's headquarters. Twelve-foot-tall inflatable chickens were part of our protests and even made a trip to Wrigley Field to spread the word about the cruelty in McDonald's supply chain.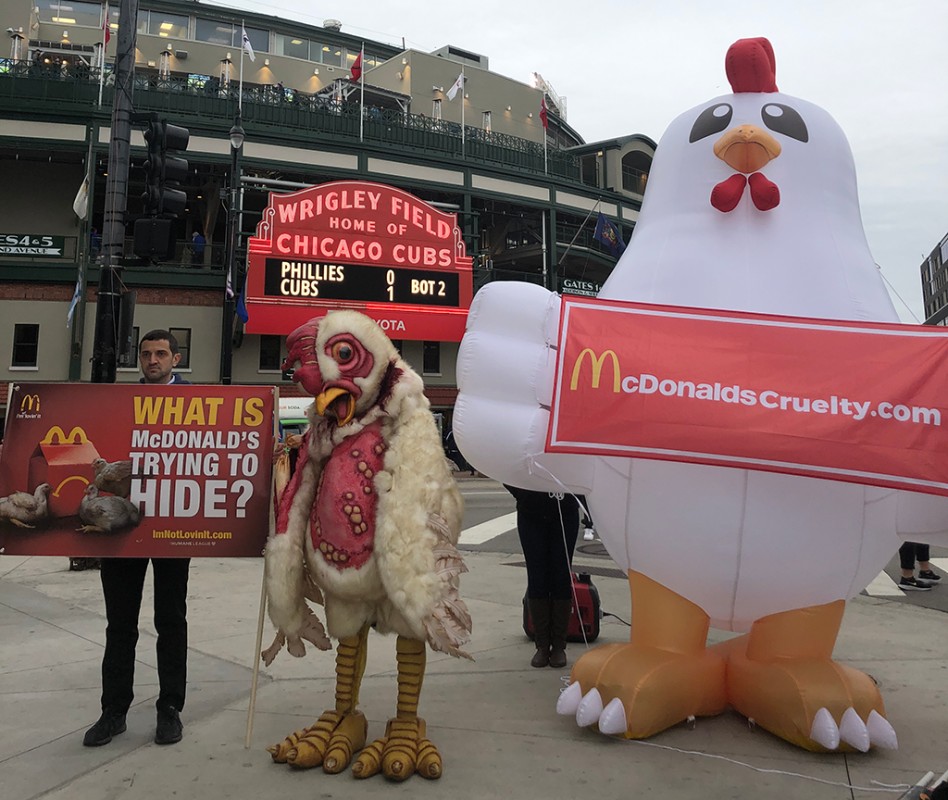 At the same time, several activists flew to Dallas to take part in an additional demonstration during the company's annual shareholders meeting. That year was the first the shareholders meeting had been held outside Chicago, which was very likely due to the planned demonstrations.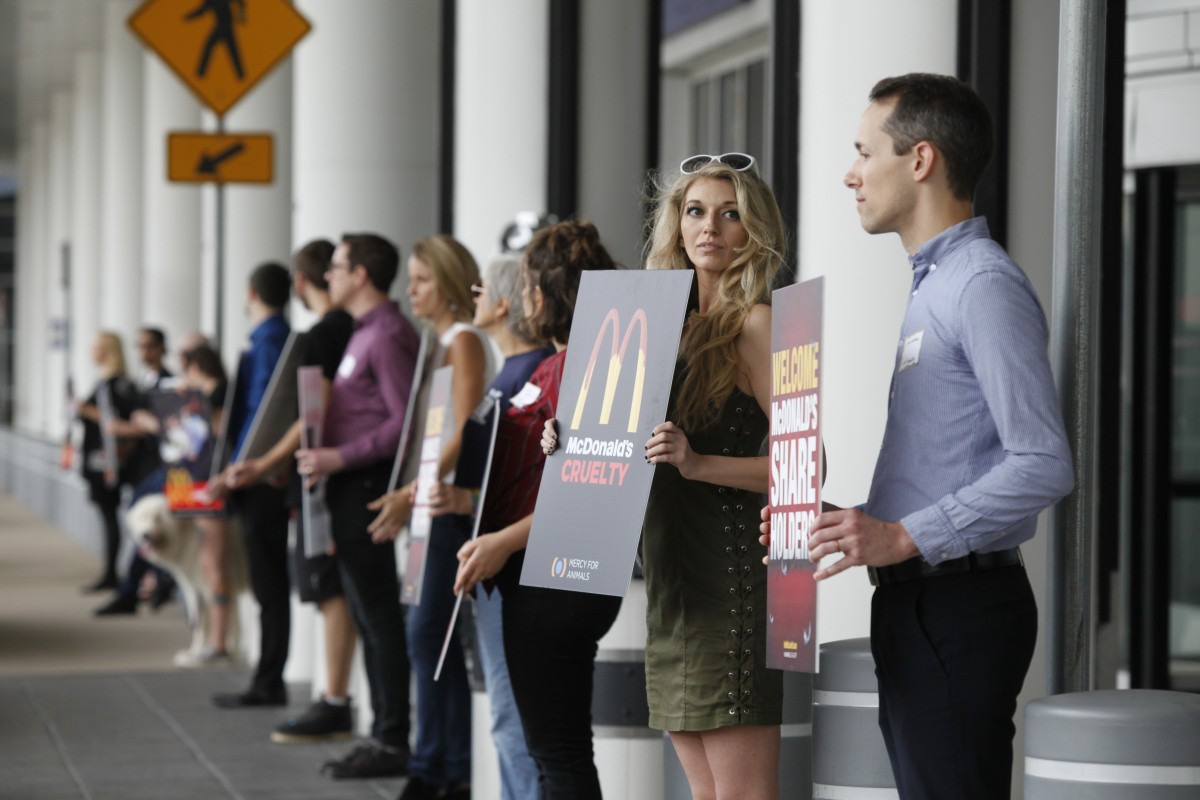 The day before the shareholders meeting, a cast of 25 celebrities urged McDonald's to adopt a comprehensive chicken welfare policy
in a TV ad that aired in Chicago
.
Produced by Mercy For Animals, the video featured Daniella Monet, Emily Deschanel, James Cromwell, Kimberly Elise, Matt Lauria, Joanna Krupa, Daisy Fuentes, John Salley, Alison Pill, and many others. The ad, covered by
viral news outlet NowThis
, swiftly racked up millions of views on social media. Additionally, 800,000 people in the Chicago area saw the ad on CNN, MSNBC, ESPN, NBC, and other channels.
In
July 2019
, Mercy For Animals put up multiple billboards in Georgia—the poultry capital of the world—asking people to speak out against any wrongdoings they may have witnessed at McDonald's or Tyson Foods. Tyson Foods is the largest poultry producer in the United States and supplies McDonald's with most of its chicken. In English and Spanish, the signs reached thousands of people affected by the chicken industry and introduced them to our new resource:
ChickieLeaks.com
.
This secure online platform aims to give a voice to people who've suffered in the chicken industry.
In addition to the billboards, Mercy For Animals purchased print ads in local Georgia media outlets and initiated direct-mail campaigns in chicken farming communities in several states, such as Arkansas, where Tyson Foods is headquartered.