You can imagine our excitement this afternoon when we were scrolling through Instagram and saw this picture: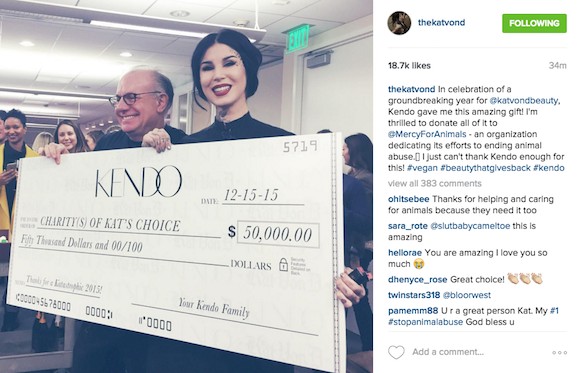 Famed tattoo artist, entrepreneur, and TV star Kat Von D took the internet by storm a few months ago when she posted this passionate video about her decision to be vegan on YouTube. It quickly garnered hundreds of thousands of views.
Kendo, a brand incubator, helped bring Kat Von D's fabulous makeup line,
Kat Von D Beauty
to market. All of the products are cruelty-free.
All of us at Mercy For Animals would like to extend our sincere gratitude to Kat and Kendo for this incredibly generous gift.



And since all donations to MFA up to $500,000 are being matched through the end of the year, Kat's $50,000 donation will go even further in our mission to change to the world for farmed animals.
Inspired by Kat Von D's generosity? Join her in helping MFA succeed in its Million-Dollar Challenge.
Make a donation
today and your gift will doubled.