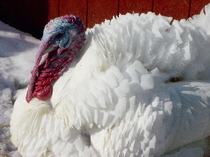 Fall is in full swing, and millions of Americans are getting ready to celebrate Thanksgiving by feasting on a turkey. But more and more people are choosing to no longer celebrate a day of gratitude by eating an animal who
suffered greatly
to get to their holiday tables. This year, you can establish a compassionate holiday tradition by leaving a loveable turkey off your menu and inspiring others to do the same. Here are some ideas for a delicious and cruelty-free veg Thanksgiving.
1. Be positive and give thanks. The Thanksgiving holiday is a tempting time for some vegetarians to blame meat-eating family and friends for the deaths of 46 million turkeys, making loved ones feel judged and become defensive. Happily enjoying a delicious veg Thanksgiving and reminding yourself of the many people and things you are grateful for is likely to be a better way to inspire someone to try a Tofurky – and it will lead to a happier holiday for you, too.



2. Host a veg Thanksgiving. By inviting your family and friends to dine at your home this year, you can showcase how delicious a compassionate Thanksgiving can be. Delight in creating a fabulous feast that will convince your guests that giving thanks does not need to include harming a turkey. You can also turn it into a community event that you post on Meetup.com or a local veg group's email list to meet others looking to celebrate a veg Thanksgiving. A potluck is a great way to invite others to contribute and to try new vegan dishes yourself. Check out some of these delicious recipe ideas to get you started.



3. Invite friends out for Thanksgiving dinner. Show them what a cruelty-free, seasonal menu has to offer at your favorite vegan restaurant. If you're not much of a cook or don't have room in your home, see if any restaurants in your area will be offering a veg Thanksgiving dinner. Check out VegGuide.org for a listing of veg-friendly restaurants in your neighborhood.



4. Share MFA's videos documenting the mistreatment of turkeys. Many people are simply unaware that most turkeys who end up on Thanksgiving tables are subjected to unnatural confinement, horrific mutilations, and traumatic slaughter. You can educate them by posting MFA's 30-second Thanksgiving advertisement or our undercover investigation into Butterball turkey abuse on Facebook or Twitter so that they can see for themselves.



5. Like, share, and comment on articles highlighting the trend toward veg Thanksgiving celebrations. Major publications have recently featured articles about vegetarian Thanksgivings, showing people that a turkey-free holiday is an increasingly mainstream, healthy, humane, and delicious option for them. Not only are more people likely to leave turkeys off their plates with greater circulation of these articles, but the more positive feedback offered by readers, the more likely publications will be to highlight veg eating in the future.



6. Write a letter to the editor. Virtually every newspaper will feature articles about Thanksgiving, which will create perfect opportunities to write letters to speak up for the turkeys and encourage people to have a compassionate Thanksgiving. Check out these tips to increase your chances of getting published.



7. Sign a petition to persuade Butterball to treat turkeys better. Take a moment to sign MFA's Change.org petition asking Butterball to implement animal welfare standards to improve its treatment of turkeys, and then share the petition with friends and family.



8. Donate to help MFA promote our Thanksgiving advertisement as widely as possible. Your tax-deductible donation will enable more people to find out how turkeys are mistreated to become someone's Thanksgiving dinner.



9. Take a trip to visit or volunteer at a farmed animal sanctuary. Bring along loved ones so they can meet, learn about, and develop empathy for turkeys. Check out this list to discover sanctuaries in your area.



10. Visit MFA's Action Center to learn about more ways to get active to help animals.Pass out leaflets or organize a Paid-Per-View event showing our hard-hitting Farm to Fridge video. Even a small investment of your time can reach people with a message of health and compassion they would otherwise never have received.



This holiday season, we hope you enjoy a happy, healthy, and humane Thanksgiving and inspire many others to do the same.
To learn more about the benefits of vegetarianism, visit
ChooseVeg.com
.