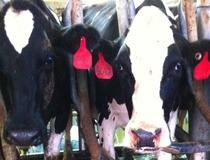 Hidden-camera video footage
of animal abuse secretly recorded by Mercy For Animals at Bettencourt Dairies – a
Burger King
cheese supplier – has led to dairy worker Jesus Garza pleading guilty to criminal cruelty to animals earlier today. Garza was caught on video viciously beating, kicking, and jumping on cows.
Garza entered his plea just moments before his trial was set to begin and after a jury had already been called. Sentencing is expected to take place next month. Garza could face up to six months in jail, fines up to $5,000, and be prohibited from working with animals in the future.
Watch the undercover video footage here:
In light of this conviction, MFA is urging
Burger King
and other Bettencourt Dairies buyers to adopt new animal welfare guidelines, including zero tolerance for kicking, punching, and shocking cows, requiring suppliers to prohibit painful and unnecessary mutilations of animals, and requiring suppliers to provide a safe, clean, and sanitary environment for cattle, and more.
While Burger King has the power and the ethical responsibility to help end some of the worst forms of animal abuse in the dairy industry, concerned consumers can help prevent needless violence and cruelty to animals by ditching dairy in favor of healthy and humane plant-based alternatives to milk, cheese, and ice cream. Visit
ChooseVeg.com
to learn more.