On the heels of
a shocking hidden-camera investigation
exposing rampant animal cruelty within Canada's livestock transport industry, Mercy For Animals attempted to deliver the signatures of over 80,000 compassionate people to federal agriculture minister Gerry Ritz, demanding that Canada's transportation regulations be updated to prevent egregious animal suffering.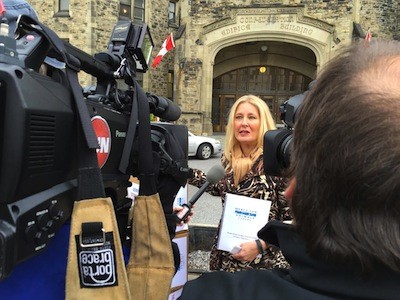 Sadly, Minister Ritz refused to accept the petitions in person, security denying MFA representatives entry to the Confederation Building in Ottawa this morning. MFA has now mailed the petitions directly to Minister Ritz. MFA Canada's executive director, Krista Osborne, addressed throngs of media outlets outside the government building, urging the public to continue calling on the federal government to update Canada's archaic livestock transport regulations.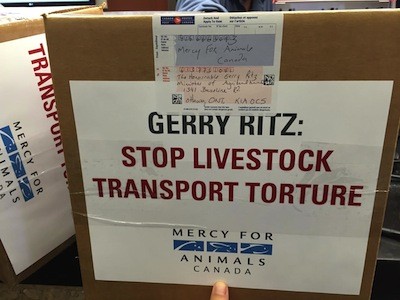 The graphic undercover video that sparked this public outrage and media firestorm was shot at Western Hog Exchange in Red Deer, Alberta, and shows sick and injured animals who had just been trucked hundreds of kilometres in extreme weather being violently beaten in full view of government inspectors. The footage also shows "downer animals unable to walk being shocked with electric prods and left to suffer without proper veterinary care.
Canada's livestock transport regulations are the worst in the Western world, and lag far behind both the European Union and the United States. Farmed animals are often trucked thousands of kilometres for up to 52 hours without any food, water, or rest, resulting in the deaths of millions of animals each year. They die in excruciating pain brought on by dehydration, starvation, and suffocation. Many animals sustain such severe and crippling injuries from extreme overcrowding that they are declared unfit for human consumption and killed upon reaching their destinations. Last year in Canada, more than 8 million farmed animals arrived at slaughterhouses dead or so sick or injured that they were killed upon arrival.
Watch the hidden-camera video footage here:
"Canada's outdated livestock transport regulations are downright shameful. We lag behind every other Western nation, allowing animals to suffer unimaginably as they are trucked through all weather extremes, for days, without food or water, says Krista Osborne. "Agriculture Minister Gerry Ritz has not only the power, but also the responsibility, to end the needless suffering of animals within the livestock transportation industry.
Take Action
Please
sign the petition here
calling on Gerry Ritz to swiftly update Canada's livestock transportation regulations to prevent unconscionable animal cruelty.