Niterói, a city in Rio de Janeiro, Brazil, is one of many cities that have partnered with Mercy For Animals'
Conscious Eating
program to replace animal-based meals with entirely plant-based meals once a week in public schools. Conscious Eating works with school districts and other institutions to reduce meat, dairy, and eggs served by at least 20 percent to benefit public health, the environment, and animals.
Niterói implemented the program over a year ago, and the city's impact is significant, as more than 100 municipal schools serve a combined 25,000 meals per day.
Last weekend, the Municipal Infant Education Unit Rosalda Paim, a Niterói public school, hosted an educational event with parents and teachers: "Feeding the Small Child. School teachers presented the Conscious Eating program to parents, who learned all the good reasons to replace animal protein with a selection of protein-rich vegetables and grains. At the end of a discussion mediated by teachers and school cooks, parents were encouraged to consider eating more plant-based foods at home.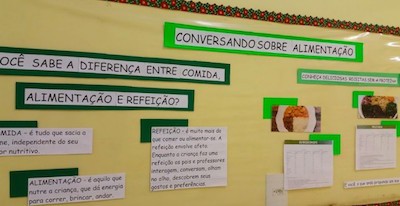 Children listened to stories about plant-based eating as part of the program. Then with the help of a teacher, the students prepared a fruit salad. After the program, parents and students were invited to taste a plant-based version of feijoada—a Brazilian dish traditionally made with pork. This recipe swapped beans for meat and proved that plant-based versions of popular Brazilian dishes are not just possible but hearty and delicious.
"We believe in the power of nutritional education as a transformation tool, said Thayana Oliveira, nutritionist and Conscious Eating implementation specialist. "Changing dietary habits to promote health and raising awareness of how our choices affect the future of the planet are only possible with the entire school community's involvement. It's true—the Conscious Eating program offers only direction. School engagement is ultimately responsible for the implementation and success of the program.
"We are proud to work with Niterói, a city that, through education, is leading the school community toward healthier eating," Thayana concluded.