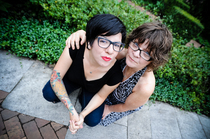 Jasmin Singer and Mariann Sullivan, the dynamic duo behind
Our Hen House
, are on fire! Aside from their successful website and podcast, they recently debuted "The Our Hen House's TV Show" with Brooklyn Independent Media.
According to the Hens themselves, the fabulous new show will "venture into the under-explored world of animals rights with a sense of humor, a passionate heart, and more than a few opinions on the state of animal rights."
Anyone who's listened to the OHH podcast knows that Jasmin and Mariann know how to bring it. From intriguing guests, up-to-date news, and thoughtful reviews (some by yours truly), these "beautiful ladies" (my signature nickname for them) invite us all to ponder the plight of the animals, whether you're a meat-eating Kansan like Jasmin's brother or a seasoned vegan.
The TV show will air throughout New York City on Verizon (all boroughs) and Time Warner (Brooklyn only). But not to worry if you're not a New Yorker, the show also streams live
here
and archives can be watched
here
.