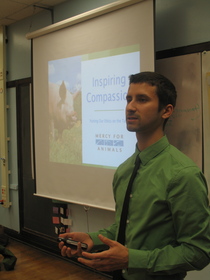 Teaching students to have empathy for animals is one of the most effective, long-lasting, and meaningful ways to build a more compassionate world. With
flexible programs
that can be modified to fit the specific curricular needs and interests of any audience, MFA's humane education program has been cultivating kindness toward animals at high schools and college classrooms, conferences, community and religious organizations, and other venues around the country for years.
In addition to helping stimulate the moral development of our nation's youth, MFA's
highly acclaimed
humane education presentations encourage critical thinking about social justice issues and urge students of all ages to make more
humane
,
sustainable
, and
healthy
food choices. Focusing on topics ranging from how a
plant-based diet
can help
prevent disease
to the outlook for creating legal protections for farmed animals, MFA's presentations empower students to make a positive difference in their own lives, their local communities, and the world around them.
Learn more
about MFA's Humane Education program and the wide variety of thought-provoking presentations available.
Request a speaker
from Mercy For Animals for your classroom, place of worship, or civic group today.