Kroger, the United States' largest grocer, is backtracking on its promise to go cage-free.
In March 2016, Kroger announced it would transition to a 100 percent cage-free egg supply chain by 2025. This was a huge step in the right direction and would help alleviate some of the worst suffering for countless birds.
Unfortunately, the company is now breaking its promise. In August of last year, Kroger announced that it no longer planned to meet its goal of selling exclusively cage-free eggs. While the company now aims to transition some of its eggs to cage-free or higher standards by 2030, it has made no new commitment to reaching its goal of 100 percent cage-free. After Kroger promoted the pledge to the public and investors for more than six years, this is a massive betrayal to both animals and consumers. 
While eliminating cages doesn't solve every problem, it makes a huge difference to birds trapped in the food industry. Chickens are incredible animals with unique personalities and complex relationships, yet they are often treated as egg-producing machines. Most laying hens worldwide are confined to tiny, crowded "battery cages" without room to even spread their wings. Each hen suffers, on average, an estimated 11,207 hours of pain in her shortened life, from bone injuries and other ailments to not having access to a nest.
Kroger is not only harming animals by abandoning its cage-free goal but breaking customer trust. Customers may now have reason to be skeptical about Kroger's other forward-looking commitments, such as the company's pledge to reduce GHG emissions from its operations by 30 percent by 2030.
Take Action
Kroger's decision to keep hens in its supply chain crammed in cages is unacceptable. That's why Mercy For Animals has taken out a full-page ad in the Wall Street Journal calling on Kroger to keep its promise to consumers and reinstate its 100 percent cage-free egg policy.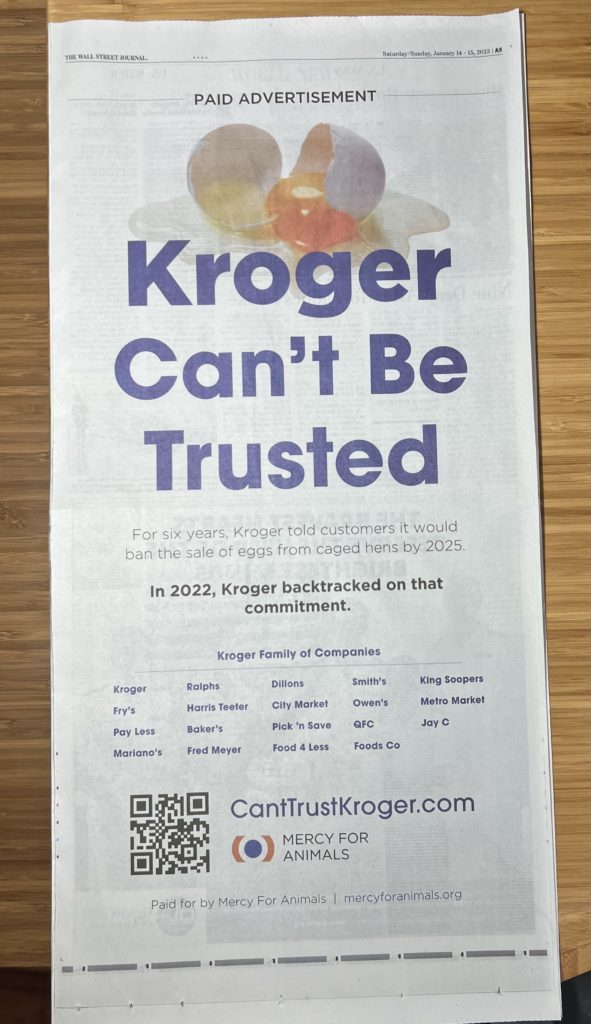 Mercy For Animals has also taken out full-page ads in the Cincinnati Enquirer, the leading newspaper where Kroger is headquartered. All the ads link to CantTrustKroger.com, where compassionate people can join us in calling on Kroger executives to do better.
So what are you waiting for? Head over to CantTrustKroger.com, and take a stand for chickens today.