Chickens raised and slaughtered for McDonald's are among the most abused animals on the planet, and a massive digital advertisement in New York City's popular Times Square exposes the company's cruelty.
Since July, the rotating ad showing birds suffering at factory farms has appeared daily, multiple times an hour from 6 a.m. to 2 a.m. As part of a coalition of animal protection groups, Mercy For Animals supports and recently renewed the ad. More than a million people pass by it every day.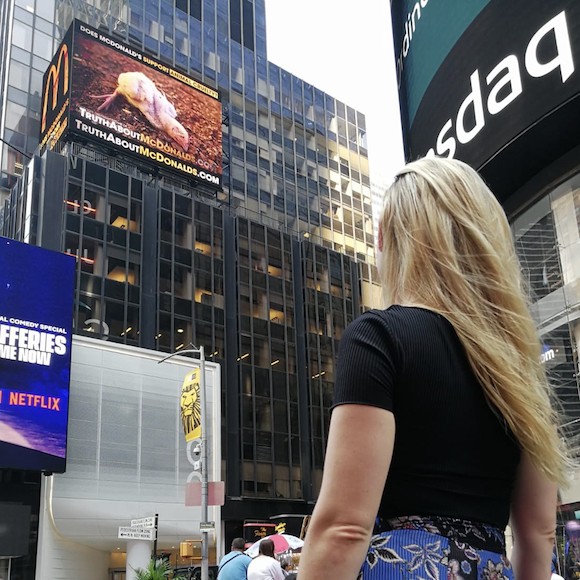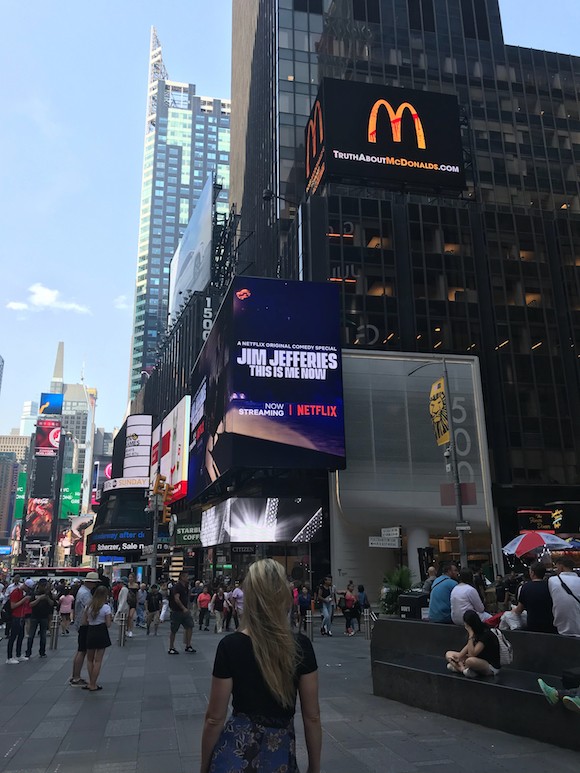 This ad is just one of many ways MFA has called out McDonald's. A 2015 MFA investigation into a factory farm supplying McDonald's uncovered owners impaling birds with makeshift spiked clubs and stepping on birds' heads while pulling their wings or bodies to break their necks. Our undercover footage shows sick and injured animals left to suffer without proper veterinary care and thousands of baby birds bred to grow so fast they became crippled under their own weight.
Two years later, McDonald's released a weak statement outlining a vague eight-point plan designed to mislead consumers about how the company treats animals.
The statement
fell far short of addressing many of the most pressing
animal cruelty concerns.
But we have joined forces with five other animal protection groups—Animal Equality, The Humane League, Compassion in World Farming, World Animal Protection, and Compassion Over Killing—to demand McDonald's clearly and explicitly ban the worst abuses endured by birds in its supply chain. Together, we made this ask in an open letter in The New York Times last spring. The coalition has also organized grassroots outreach events, online and on the ground, to show McDonald's that its customers won't stand for the abuse it allows its suppliers to inflict on animals killed for McNuggets and chicken sandwiches.
The torture McDonald's permits its chicken suppliers to get away with is unacceptable and out of step with both consumer demand and business trends. A
recent survey
found that 78 percent of American respondents agreed that companies should adopt stronger welfare standards. Additionally, more than 100 major food brands—like Burger King, Jack in the Box, Sonic, and Subway—have already committed to implementing specific animal welfare policies that will end these cruelties in their supply chains by 2024. But McDonald's continues to drag its feet.
Disgusted by McDonald's lack of compassion? Take action at
McDonaldsCruelty
.com.
And remember, the only way to truly end the needless suffering of chickens and other farmed animals is to stop eating them. For helpful tips on leaving chickens and other animals off your plate, please visit
ChooseVeg.com
.