"Incredible," "extraordinary," "inspiring," "moving," and "magical" are just some of the words we've heard describing the night. On September 16, 2022, Mercy For Animals held its 23rd anniversary gala at Skirball Cultural Center in Los Angeles, California. The evening featured a compelling program, flavorful plant-based food, and a vibrant after-party under the stars. Thanks to everyone who attended, supported, or sponsored the gala. Our inspiring community raised over $1.4 million to support Mercy For Animals' vital work!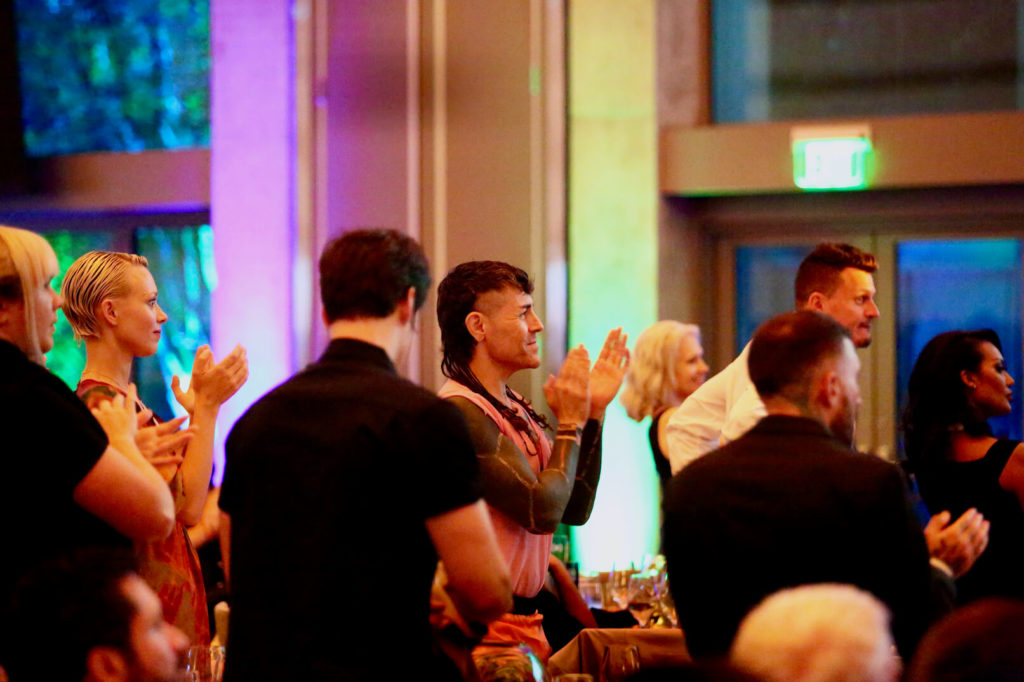 This was Mercy For Animals' first hybrid gala, welcoming guests both in person and virtually. For guests attending virtually, the event started with an exclusive music set from DJ Coyu. In Los Angeles, it began with a grand red carpet reception. Celebrity supporters who walked the red carpet included Richa Moorjani, Skylar Stecker, Jessica Parker Kennedy, Stephanie Corneliussen, Brett Dier, Rich Roll, Diane Warren, Sarah Jeffery, Lesley-Ann Brandt, Davey Havok, Tia Blanco, Kathy Freston, Tara Strong, Rain Phoenix, Liberty Phoenix, Aubrey K. Miller, Harley Quinn Smith, and Shawn Hook.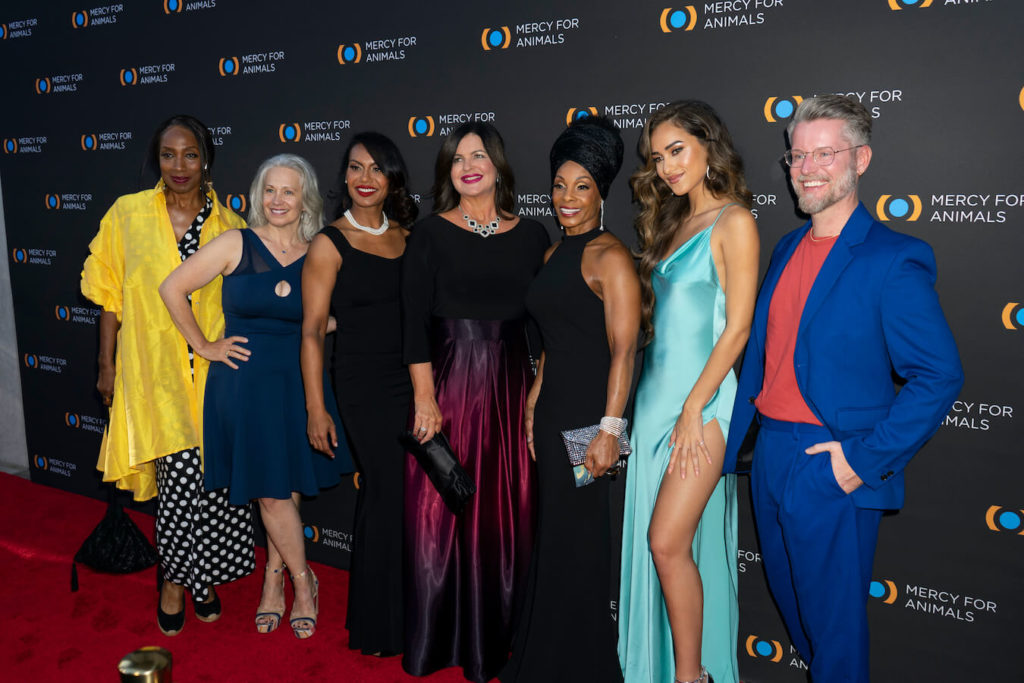 Outside under the clear LA sky, guests savored amazing hors d'oeuvres from The Gray Zebra and Better Chew and specialty drinks the Transfarmtini, Babe Breeze, and Mercyrita. After the reception, guests made their way to the grand ballroom for a four-course meal featuring delicious vegan cheese from Miyoko's Creamery and dessert with VGAN chocolate.
Hosted by actress and Mercy For Animals friend Hayley Marie Norman, the program recognized amazing animal advocates with the Community Changemaker Award, Hidden Hero Award, Global Impact Award, and Hope Award.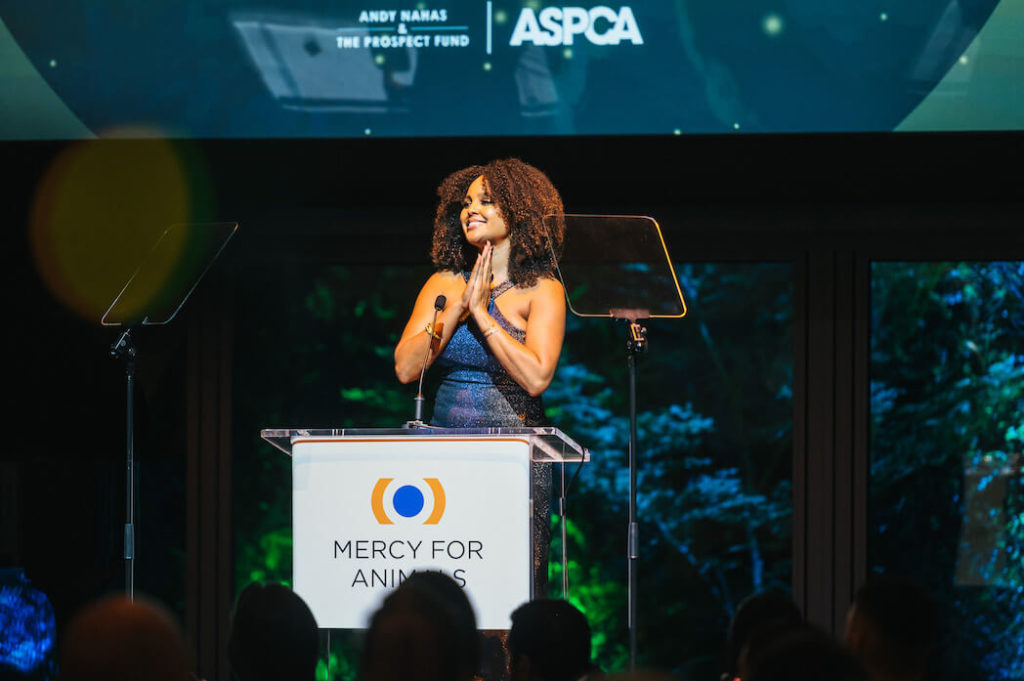 The Community Changemaker Award
Babette Davis was honored with the Community Changemaker Award for her dedication to sharing vegan food in her neighborhood of Inglewood, California, through her restaurant, Stuff I Eat. Her acceptance speech was uniting and uplifting. "The one thing that really just stuck with me," she said. "This right here, food, and sharing knowledge with the masses." Closing her heartfelt speech, she said, "To my momma, who taught me good food, hard work, and unconditional love, I humbly accept this award, and I thank you."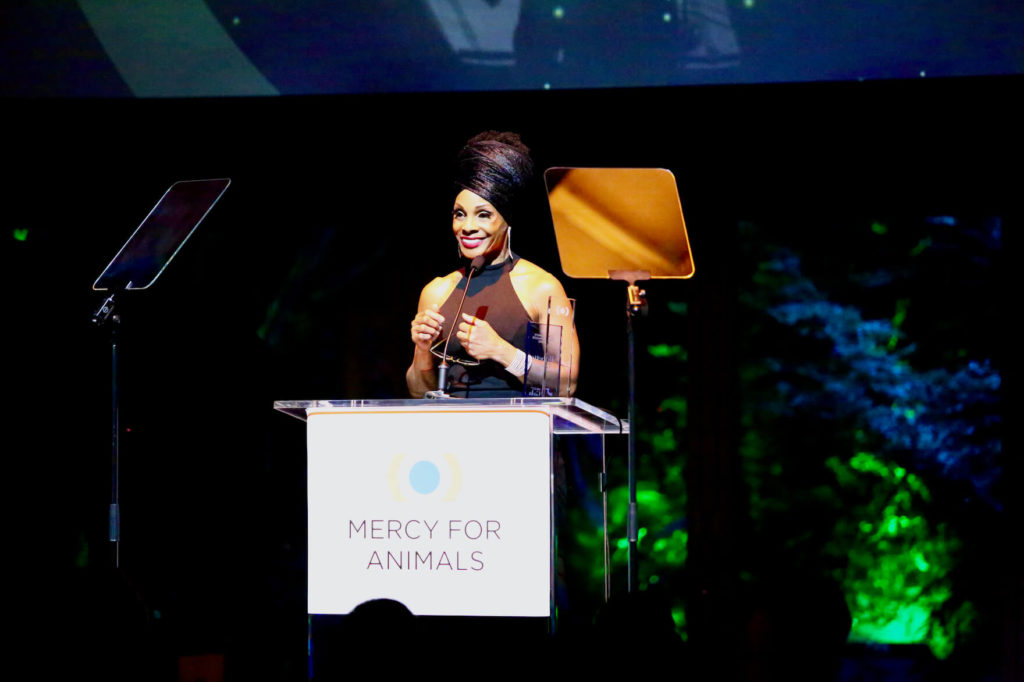 The Hidden Hero Award
Undercover whistleblower Joshua received the Hidden Hero Award for his work exposing cruelty to chickens in Canada, which led to new animal welfare standards in British Columbia. "It's a really important job to be able to give these animals a voice and to show people what is happening behind closed doors," he said. "It is probably the most important thing I have ever done in my life."
The Global Impact Award
The Global Impact Award was given to Joanne L. Molinaro—aka The Korean Vegan—for sharing powerful stories and vegan recipes with the world. Her humble speech highlighted everyone's important role in creating change: "I want you to remember that each and every single one of you has had an impact on this, our one precious planet."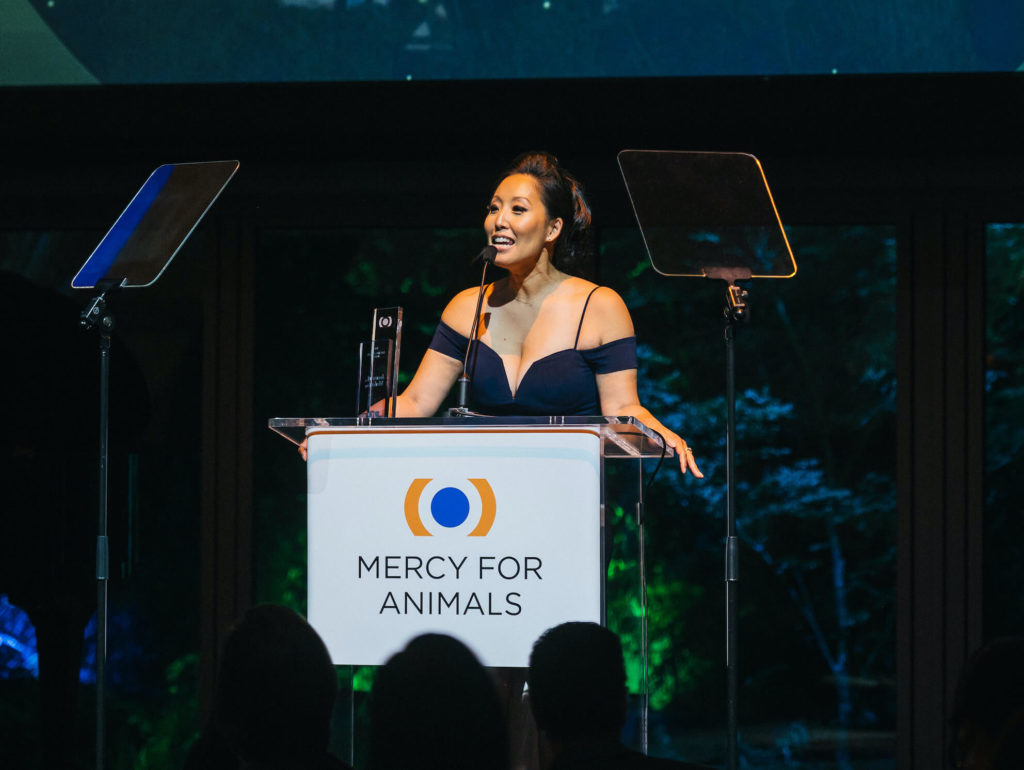 The Hope Award
The final award honored acclaimed actor and activist James Cromwell for his decades of dedication to animal advocacy. Accepting the Hope Award, Cromwell delivered a stirring speech full of hope. "We are all family," he said. "It remains to us, to you, all you wonderful people who care and act to act on that caring and make a difference. … We could change the world. We will change the world. It is up to us. Our voices do count."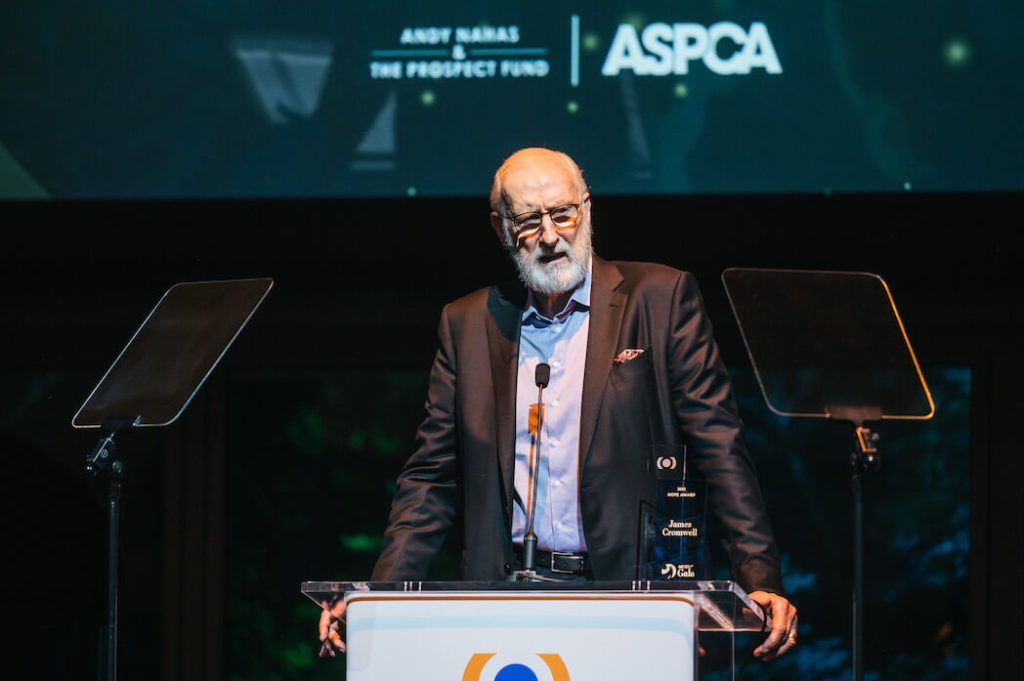 A beautiful and moving live performance by award-winning singer-songwriter Shawn Hook set the mood for the rest of the gala.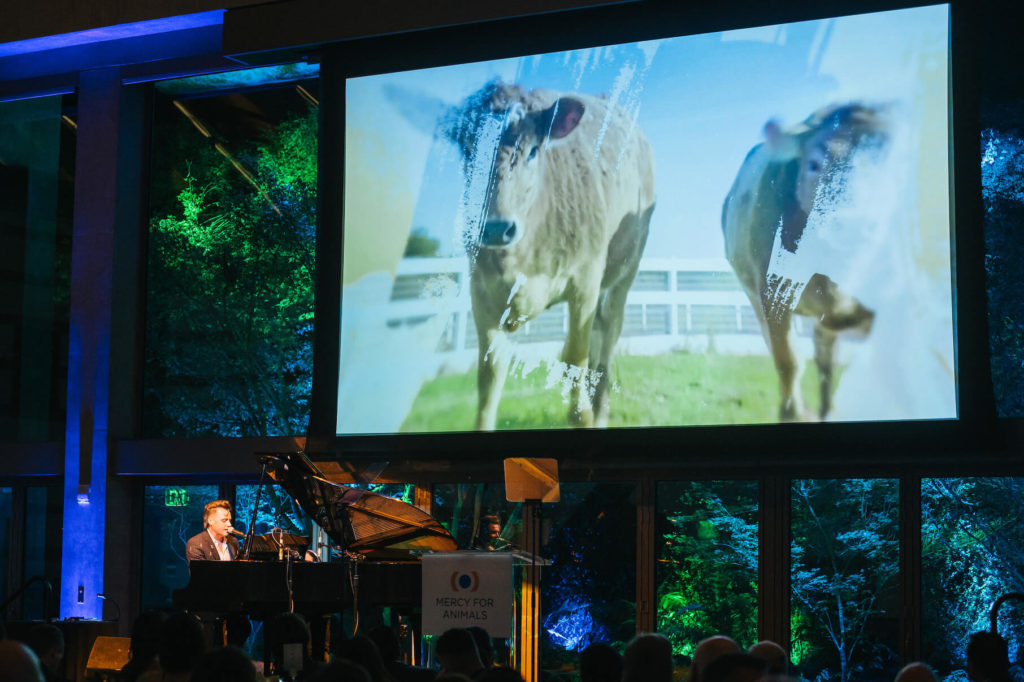 Mercy For Animals CEO and president Leah Garcés expressed her determination to change the food system. Hopeful that one day animals will be respected, protected, and free, she reminded the audience that this future will not come without a fight. She emphasized, "We will not give up until this atrocity of a food system is ended."
After this rousing speech, Mercy For Animals founder Milo Runkle, joined the stage to co-host the donor challenge. He and Garcés engaged the audience, and Mercy For Animals' dedicated supporters stood up to help fuel an end to farmed animal suffering. The gala raised over $1.4 million!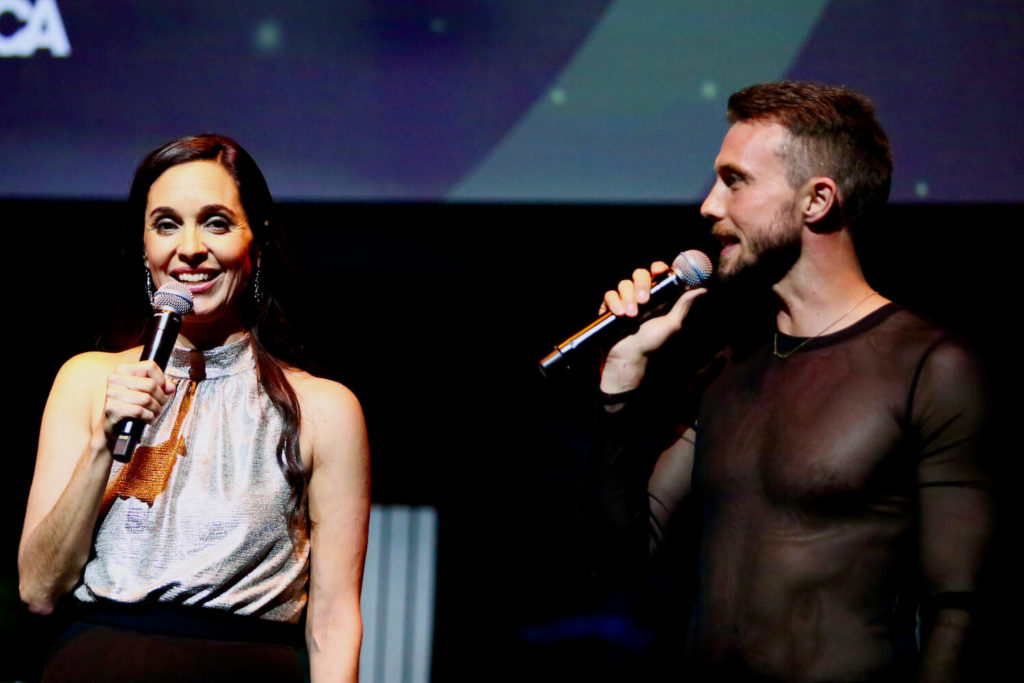 The post-reception party was full of music, energy, and even more delicious food from Venice Gelato, VGAN Chocolate, Tate's Bake Shop, and a Miyoko's Creamery food truck!
Guests were also able to participate in an auction with extraordinary vacations in Las Vegas, Costa Rica, Palm Springs, and Los Angeles; one-of-a-kind wine and farm sanctuary tours; a Beyond Meat food truck experience; and many other exciting items. Thanks to the generous supporters who donated the items and the guests who bid on them, the gala auction raised $15,000!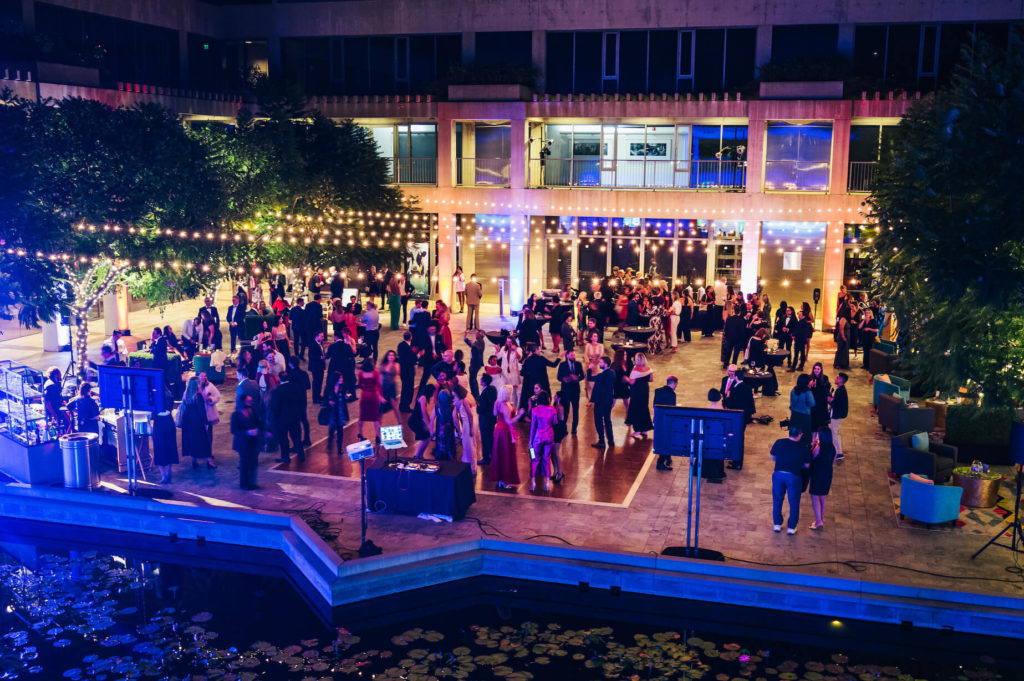 Mercy For Animals would like to thank everyone who celebrated the organization's 23rd anniversary virtually or in person. We thank our generous sponsors for making The Mercy For Animals Gala a spectacular success, including Andy Nahas & The Prospect Fund; ASPCA; Breyer; Carol House Furniture; Mobius; Joyful Ventures; Zoom Marketing; Compassion Collective via Micah J. Desaire; Cheryl Moss, author of Gabriel; and Ecoflix. And we are grateful for the generosity of Alwyn Capital; Lip Service; Vegan & Animal Professionals Insurance Agency; KW Executive, The Chou Team; Vegan Green Planet; and AdAstra.
Couldn't make it to the event but still want to support Mercy For Animals' work to protect animals? Donate today!