What a spectacular event! On September 15, 2018,
Mercy For Animals honored undercover investigators
at its annual
Hidden Heroes Gala
at the elegant Vibiana in downtown Los Angeles. This absolutely glorious evening included a dynamic program, incredibly delicious vegan food, and a silent disco under the stars. The beautiful fundraiser raised over a million dollars to support MFA's lifesaving work.
The festivities began with a star-studded VIP reception. Some of the famous faces in the crowd included Kat Von D, Emily Deschanel, Maggie Q, Matt Lauria, Evanna Lynch, Alicia Silverstone, and Elliot Knight.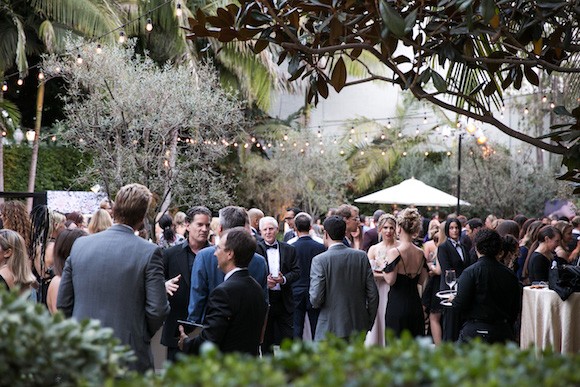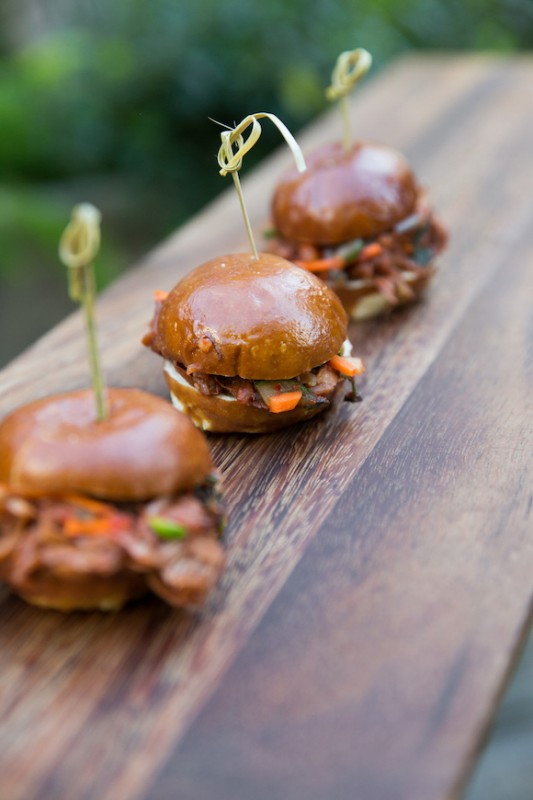 After enjoying hors d'oeuvres courtesy of
Upton's Naturals
,
New Wave Foods
, and
Treeline
, guests were ushered into Vibiana's exquisite former cathedral for a gourmet vegan dinner. The four-course meal featured a cheese plate by Kite Hill; Ocean Hugger Foods Ahimi sponsored by Blue Horizon, with coconut, calamansi, micro cilantro, and cucumber; and Beyond Meat loaf with mashed potatoes, braised greens, red wine nage, and crispy shallots.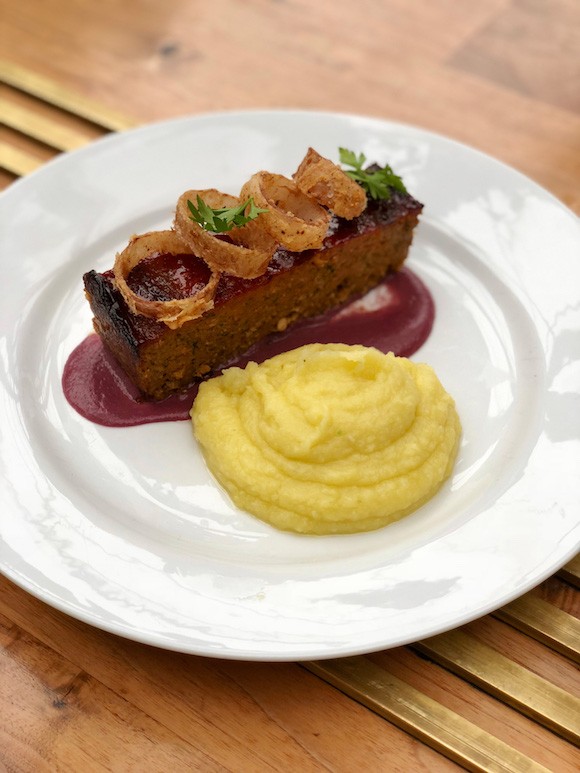 After dessert—
Sirabella's Vegan Cheesecake
 sponsored by Stray Dog Capital, with chocolate ganache, caramel sauce, cocoa nib, and strawberry—actor and singer Daniella Monet of
Victorious
fame began the moving program.
Black Sabbath bassist and lyricist Geezer Butler presented MFA's Compassionate Leadership Award to musician and songwriter Tom Scholz and longtime animal advocate Kim Scholz. Via video, Tom and Kim graciously accepted the award before paying tribute to MFA's hidden heroes. "To us, the real heroes are the ones who do the work every day, the couple said.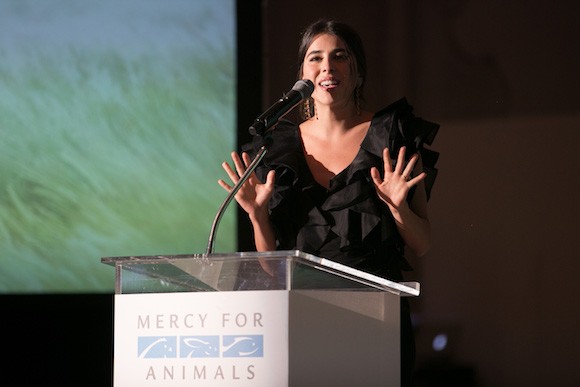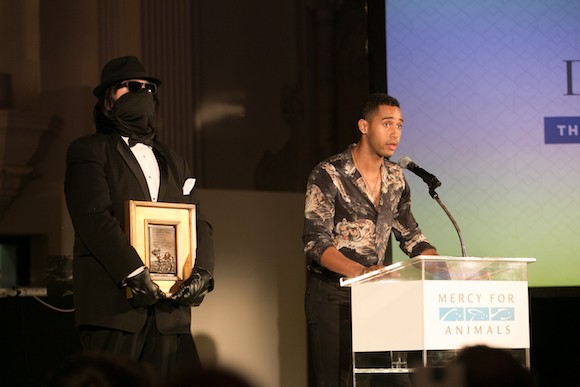 Shades of Blue
star Sarah Jeffrey presented MFA's Compassionate Courage Award to undercover investigator David Webb. Before a captivated audience, actor Elliot Knight read David's acceptance speech. "We all have our parts to play in the animal rights movement, and we've been playing ours, Elliot read. "We are the people who get up at the crack of dawn each morning to get the footage that you see, to show the truth, and to hold people accountable. I'm looking forward to the day when no one has to go undercover anymore, and if we all work together and we use the passion and the energy inside of us, we can bring that day forward much sooner. The animals are relying on all of us, so let's go on with power.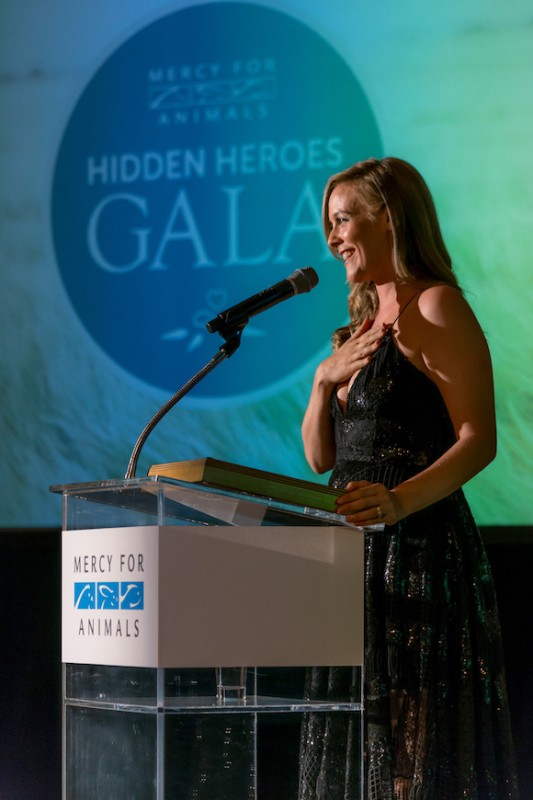 After thanking MFA for "the best meal [she'd] ever had at any event, vegan or otherwise, activist and Nikita star Maggie Q presented actor, author, Golden Globe nominee, and staunch animal advocate Alicia Silverstone with MFA's Hope Award. "MFA's Hope Award is reserved for people who inspire the world to be a kinder place, and no one has done this with more style and grace than Alicia Silverstone, Maggie said. Alicia humbly accepted her award. "I love the work you do at Mercy For Animals, and I'm so grateful for everyone in this room who is doing so much, she said. "It's so moving that there are so many people fighting for this cause. … I'm so grateful to the animals for saving my life, for making me a healthier, happier, more connected individual, and I will forever be on their side.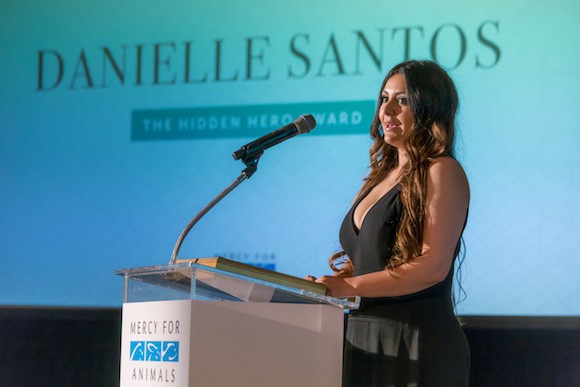 Actress Stephanie Corneliussen from the hit TV show Mr. Robot presented Danielle Santos with MFA's Hidden Hero Award. "I have learned that even though it remains difficult, any effort towards compassion is so worth it and important to bring change to those who need it the most, Danielle said. "I will remember always the chicken I met who loved to be petted and carried like a baby or the little baby cows who walked up and were eager to interact with me. They all continue to inspire me to push forward on their behalf.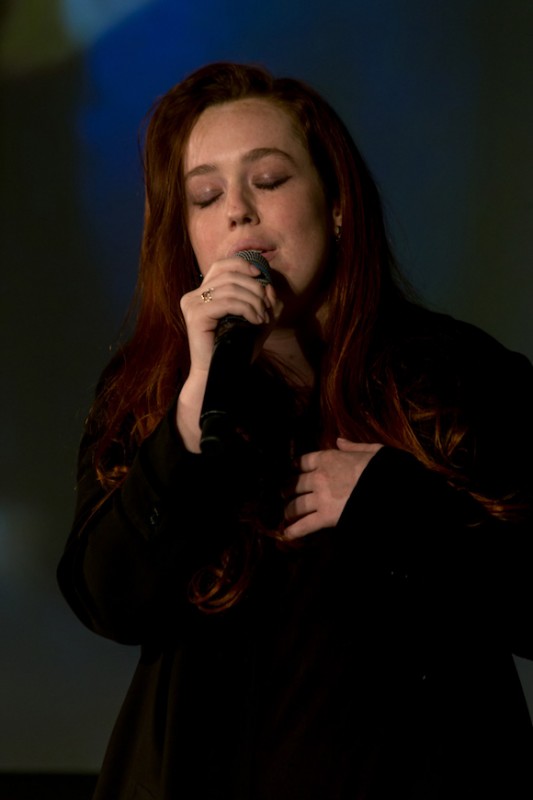 After a beautiful and emotional musical interlude by singer-songwriter
Lily Kershaw
, MFA founder Milo Runkle gave a moving speech about the power of individual change: "When we dare to change the way that we think about ourselves and others, we can transform the world. … And the beautiful thing about change is that it can happen at any moment; we are never too old or too committed or too invested to change. Milo concluded with a hopeful call to action: "Change will not come if we wait for some other person or if we wait for some other time—we are the ones that we have been waiting for. And we are the change that we seek to create.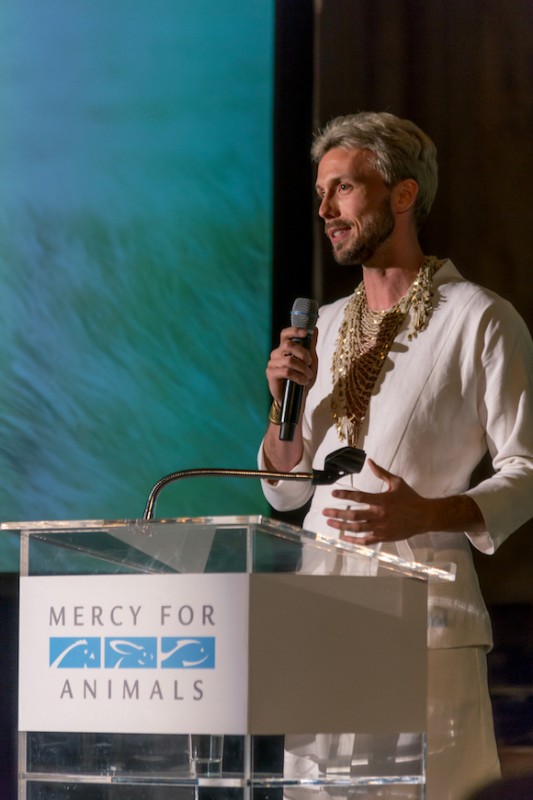 Finally, MFA's new president, Leah Garcés, took the stage. In a rousing introductory speech about her journey as an animal activist and her vision for the future, Leah said, "Ten years ago, largely because of the birth of my son, … I made the decision to focus the entirety of my career and my energy on one thing, and that's ending factory farming. Leah concluded on a grateful note: "It is the greatest honor of my life to be standing here before all of you. … I'm humbled by the opportunity to stand alongside you and fight to make the world a better place—a place where every animal is treated with dignity and kindness, and I know that world is possible. It fills my heart to know that we will be working together to achieve that.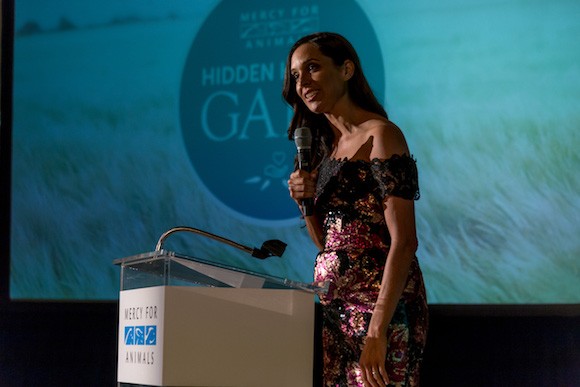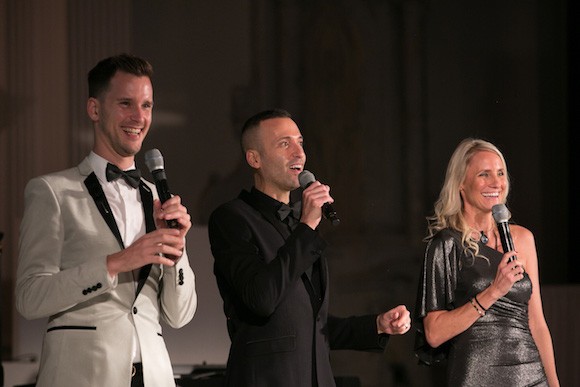 The program ended with a fundraising round to finance MFA's undercover investigations, during which Vice President of Investigations Lindsay Wolf invited former undercover investigators on stage. Vice President of Creative Jake Morton and Vice President of Social Impact Ari Solomon joined Lindsay and the former investigators in leading the round. Guests leaped to their feet to offer support, topping the event at more than $1 million.
The evening continued with an after-party featuring
Miyoko's
, mouthwatering morsels by
Good Catch
, and a silent disco that had everyone grooving to the beat.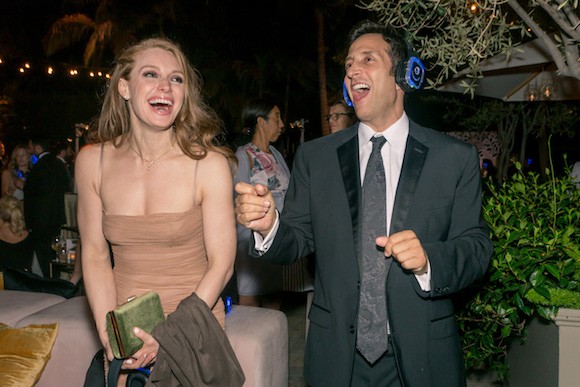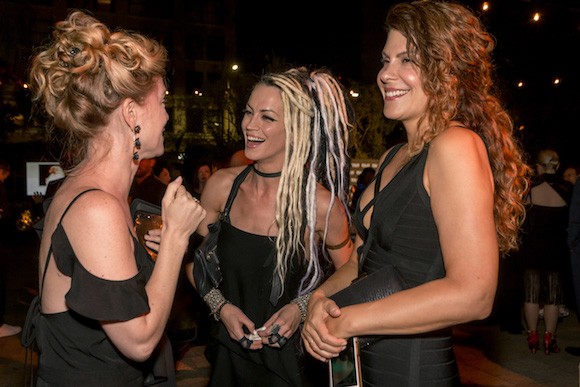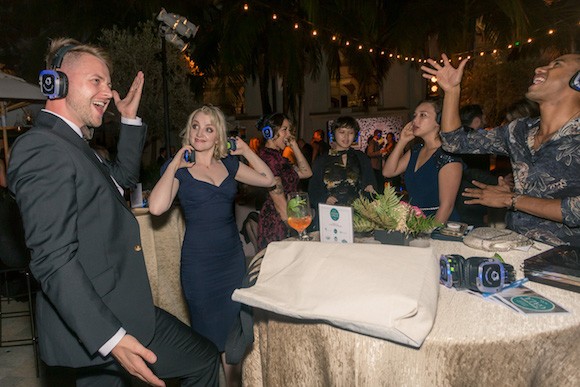 MFA would like to thank each and every guest and our generous sponsors for making the Hidden Heroes Gala an amazing success: Andy Nahas and
The Prospect Fund
,
Charlie's Acres Farm Animal Sanctuary
,
Ocean Hugger Foods
sponsored by
Blue Horizon
, 
Sirabella's Vegan Cheesecake
 sponsored by
 Stray Dog Capital
,
Kite Hill
,
Beyond Meat
,
ChooseVeg meal planner powered by Lighter
,
Upton's Naturals
,
Treeline
,
New Wave Foods
,
Purple Carrot
,
Unparalleled Suffering Photography
,
Karner Blue Capital
,
Vegan Animal and Professionals Insurance Agency
,
Miyoko's
,
Good Catch
,
Alpha Foods
,
Forks Over Knives
, and 
Step and Repeat LA
.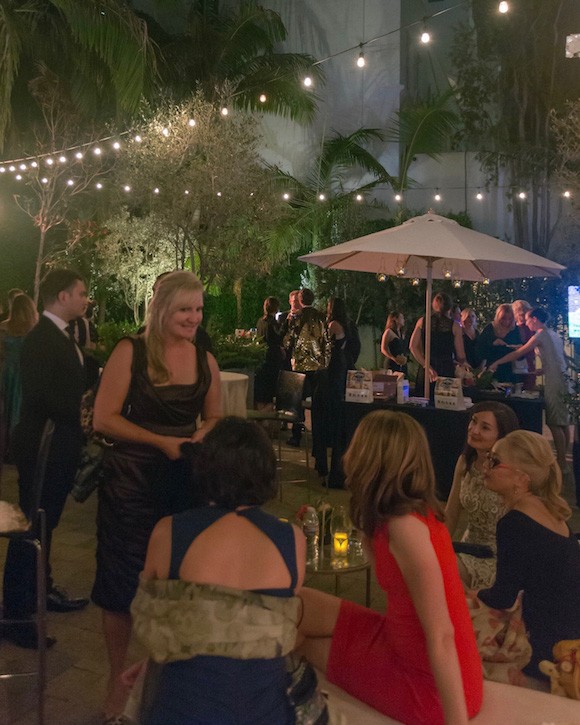 Couldn't make it to the event but still want to support MFA's heroic investigators?
Click here
to make a donation today.