Spotlighting the parallels between gay rights, animal rights, and other social justice movements, MFA volunteers in Chicago, Dayton, Columbus, Cleveland, Cincinnati, Los Angeles, and New York City marched in their respective cities' annual gay pride parades. Marching behind a banner bearing the message, "No one is free when others are oppressed," they promoted compassion for humans and animals alike.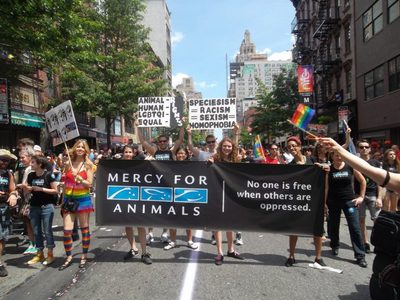 Joining MFA volunteers at pride parades in New York City and Los Angeles were a number of key players in the national veg-scene, including
Simone Reyes
,
Ashley Lou Smith
,
Rory Freedman
,
Ari Solomon
,
Mikko Alanne
, and fashion designer
John Bartlett
.
Over three-hundred volunteers from all seven parades distributed a record-breaking total of 57,000 pieces of pro-vegetarian literature, including MFA's
Why love one but eat the other?
brochures, to excited and enthusiastic crowds. Our
Paid-Per-View
program also broke records with over 1,300 people watching a four-minute version of MFA's hard-hitting documentary
Farm to Fridge
.
This was MFA's seventh year marching in gay pride parades nationwide, promoting compassion, diversity, and social justice for all.
For information and tips on improving your health and helping animals by adopting a plant-based diet, visit
ChooseVeg.com
.