National Bacon Day is celebrated annually in the United States on December 30. When I was growing up, I would have gladly participated in the unofficial holiday.
I was part of "
bacon culture
"
before it became a thing. Morning bacon and cheese sandwiches from the local deli were the only reason I actually got out of bed on the weekends. I would eat bacon with almost anything. But this year, I refuse to celebrate
National Bacon Day
and I will never eat bacon again.
Here are five reasons that we should all stop celebrating National Bacon Day.
1. Gestation Crates
By now you may have heard that the pork industry worldwide forces mother pigs to live almost their entire lives in cages so small the animals can't even turn around—the equivalent of living in an airplane seat. An industry representative actually stated:
2. Mutilations
Taken from their mothers' sides as young as 10 days old,
piglets have their tails cut off
, teeth ground down, and testicles ripped out—
all without painkillers
. Testicles. Ripped. Out. After these painful practices are inflicted on them, they're packed into filthy, overcrowded pens.
3. Thumping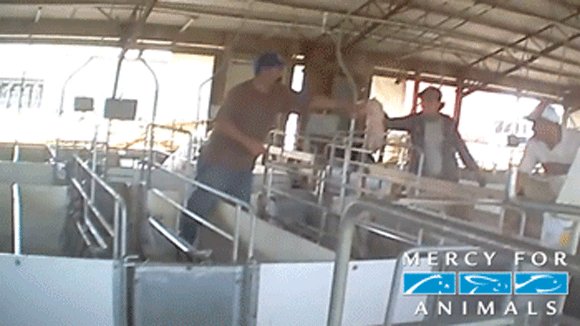 4. What They're Fed
5. Slaughter
—
So even though I was
obsessed with bacon as a meat eater
, I can no longer support something so cruel just for the sake of my palate. Once you open your eyes to the suffering of pigs, it's hard to look away—and I would never want to.