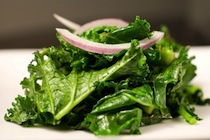 The
New York Times
offered up some amazing tips for going vegan this week. In a piece simply called "
How to Go Vegan
," writer Tara Parker-Pope shares her insights on making the transition to a plant-based diet.
Similarly to the approach taken by author
Kathy Freston
, Parker-Pope suggests making the transition gradually, slowly introducing new foods to your regular regimen.
Featuring Food Network's
Cupcake Wars
winner
Chloe Coscarelli
, Parker-Pope demystifies eggless baking and reveals new ways to create creamy dishes, such as a delicious
pizza topped with caramelized onions and butternut squash
. She also highlights the wonders of nutritional yeast–a favorite ingredient among many vegans.
Parker-Pope encourages readers to share their tips on going vegan in the comments section of the piece or by tweeting with the hashtag "#vegantips."
Whether it's for personal health, the health of the planet, or to take a compassionate stance for animals,
more people each year
are making the switch to a delicious vegan diet.
For even more recipes and useful tips on becoming vegan, visit
ChooseVeg.com
.