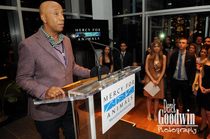 On Saturday evening, November 3, Mercy For Animals honored music and business mogul Russell Simmons for his extraordinary animal advocacy efforts at the world-renowned Press Lounge in New York City. This special MFA event, titled
INSPIRED
, also spotlighted our important legal advocacy efforts and initiatives towards protecting farmed animals and promoting compassionate food choices and policies.
Guests sipped champagne and spirits while treated to an exquisite vegan menu, featuring decadent hors d'oeuvres and desserts made from seasonal, organically grown and sustainably harvested items. The menu and catering were provided by Print Restaurant, New York City's premiere farm-to-table dining experience. Guests were each gifted upon leaving the event with an incredible vegan chocolate truffle gift box from
nicobella organics
.
Simone Reyes, Russell's executive assistant, television star, and longtime vegan animal activist, presented Russell with MFA's
Compassionate Leadership Award
, honoring him for using his career influence and passion to advocate on behalf of animals and veganism.
The
Compassionate Leadership Award
acknowledges visionary leaders who are committed to inspiring millions of people to make compassionate choices and positive changes in their lives and the lives of farmed animals. Russell Simmons joins an impressive list of changemakers, including former honorees television game show host Bob Barker and actress Emily Deschanel.
Russell accepted his award with an incredibly impassioned speech, saying while he recognizes the value of celebrity, "make no mistake; the real heroes are the people risking their lives to expose cruelty." The beautiful, personalized bronze award plaque for Russell was handcrafted by artist and sculptor
Steve Worthington
.
MFA's executive director Nathan Runkle updated guests on MFA's legal advocacy initiatives, which have led to landmark criminal and civil prosecutions of factory farms, increased animal protection laws, defeat of whistleblower-suppression bills, and policy changes that improve animal welfare and consumer protections.
A very special thank you to our event sponsors: VegNews, Melissa Li,
V-dog
, Andy Nahas and The Prospect Fund, Michael Schwarz and
Treeline Treenut Cheese
, Sebastiano Cossia Castiglioni and
Querciabella
, Harvey Fung and
The Seed
and Nichole Dandrea and
nicobella organics
.
MFA would also like to extend a special acknowledgement to our
Honorary Committee
and
Host Committee
members for making the evening a great success: Moby, Vanessa Williams, Arian Foster, Daryl Hannah, Marilu Henner, Mariel Hemingway, Kathy Freston, Simone Reyes, John Bartlett, John Bradham, Joseph Connelly, James Costa, Caprice Crane, Chloé Jo Davis, Brad Goldberg, Joshua Katcher, Melissa Li, Leanne Mai-ly Hilgart, Mary and Peter Max, Victoria Moran, Michael Parrish DuDell, Michael Schwarz, Jasmin Singer, Gene Stone, Mariann Sullivan, and Brian Wendel.
Media coverage of the
INSPIRED
event reached millions of people through features in the
Wall Street Journal
,
People
magazine,
Global Grind
, and
ContactMusic.com
.
If you weren't able to attend
INSPIRED
but would like to become an MFA member and/or support our work, please consider making a
tax-deductible donation today
.