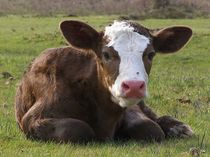 In a victory for farmed animals, Rhode Island governor Lincoln D. Chafee signed two important animal protection measures into law this week.
S. 2191/H.7180
– which prohibits the use of veal crates for calves and gestation crates for breeding sows – will take effect in July 2013.
S. 2192
– which bans the cruel practice of tail-docking cows – will take effect immediately.
On modern day factory farms, mother sows are confined in filthy gestation crates, where they are unable to freely turn around, breathe fresh air, lie down comfortably, walk, run, play, or engage in other natural behaviors. Baby calves are chained by the neck for their entire lives, deprived of the care and attention of their mothers, and unable to clean themselves or see natural light.
Gestation crates and veal crates are so patently cruel that the entire European Union and the states of California, Arizona, Oregon, Michigan, Maine, Ohio, Florida, and Colorado have banned their use.
Also horribly cruel, most cows in the dairy industry are routinely subjected to "tail-docking" – the partial amputation, typically without painkillers, of up to two-thirds of a cow's tail. This inhumane practice has been condemned by the American Veterinary Medical Association and numerous dairy industry representatives as causing chronic pain for cows, as well as aggravation and distress from an inability to fend off fly attacks.
Thanks to the Rhode Island legislature, Governor Chafee, and the countless MFA supporters who responded to our action alerts and voiced their support for the passage of this important legislation, Rhode Island becomes the ninth US state to have banned gestation crates, the seventh US state to have banned veal crates, and the third US state to have banned bovine tail-docking.
Ultimately, the best way to prevent the needless suffering of animals at the hands of the meat, egg, and dairy industries is to adopt a healthy and compassionate vegetarian diet.