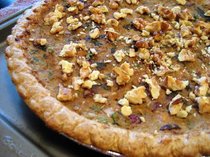 Thanksgiving is just around the corner, and many of us are gearing up to enjoy a feast of autumn flavours this long weekend. Fortunately for the animals, we can leave them off the table while enjoying our decadent, flavourful meals and giving thanks for what we have.
Here are some holiday recipes from great Canadian food magicians to whet your appetite and inspire your menu planning.
Ross Corder, of
Hot Beans
in Toronto, has created this
curried sweet potato and peanut soup
for an exciting twist on a traditional starter. Carrots, sweet potatoes and ginger combine with curry, cloves and cinnamon before the whole thing is blended until silky smooth.
White Rock, B.C.'s Dreena Burton offers up a perfect centrepiece dish that is simple to put together from familiar ingredients. The MFA Canada team can confirm that this
festive chickpea tart
is a hit with vegans and non-vegans with palates ranging from the adventurous to the conservative.
Sarah Kramer from Victoria
has dessert covered. Her
chocolate bourbon pecan pie
, as reported by the CBC, is reputed to be "better than sex." This recipe doubles as a great source for tips on replacing eggs in baking.
These food gurus are helping to prove what more and more Canadians are learning: that delicious meals can easily be cruelty-free, too.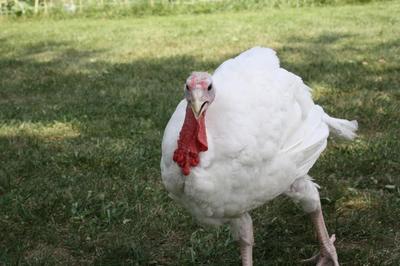 Plucky the turkey was born at an industrial turkey hatchery where unwanted males are destined to be gassed, bagged, and used as meals for birds of prey. Fortunately, he was heard peeping from the bag and was ultimately rescued by the good folks at Cedar Row Farm Sanctuary in Ontario. Plucky's new human guardians report that he is inquisitive, intelligent and social.