Mercy For Animals was proud to be the official nonprofit sponsor of this year's Vegan Women Summit in New York City! The groundbreaking three-day event was open to all genders and featured over 60 inspiring speakers—including Mercy For Animals president and CEO Leah Garcés.
This year's Vegan Women Summit was led by the event's founder and bestselling author of The Future of Food Is Female, Jennifer Stojkovic, and co-hosted by famed entrepreneur Miyoko Schinner. The summit brought in over 1,100 people from around the globe—including top CEOs, celebrities, athletes, and investors—to discuss building a kinder, more sustainable world.
The Event
Event guests attended panels, book signings, and even tastings. Among the sponsors were Impossible Foods and TiNDLE, who shared tasty vegan versions of chicken nuggets and breakfast sausage, and PopSockets—a valued Mercy For Animals supporter. Attendees also sampled innovative products like Climax Foods' vegan blue cheese, Pearlita's plant-based oysters, Impact Food's tuna sashimi, fried chicken from Atlas Monroe, and cultivated wagyu beef. VGAN, another Mercy For Animals supporter, even showcased their newest chocolate bar at the summit! 
The Speakers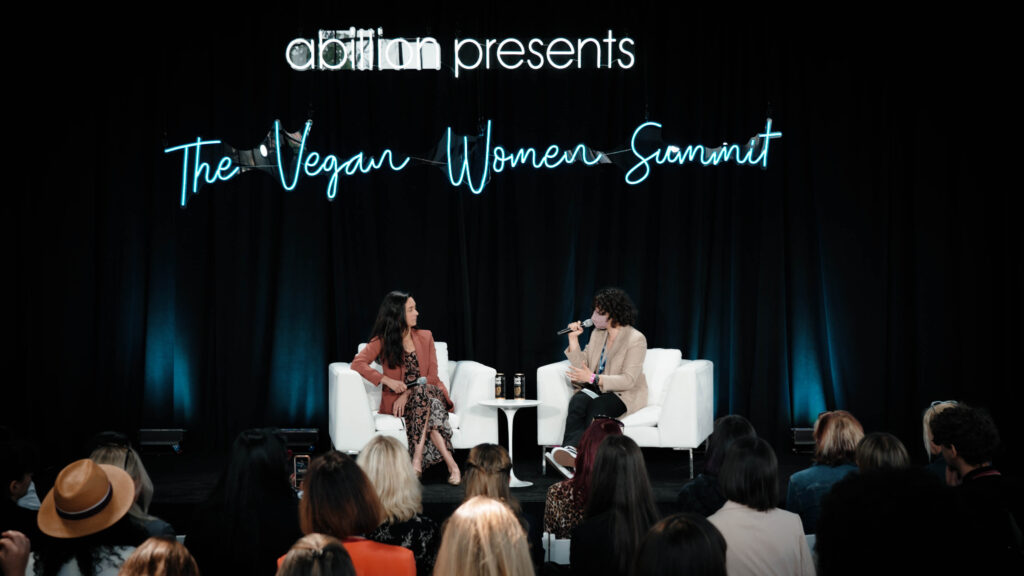 Leah Garcés teamed up with Izzie Ramirez, deputy editor of VOX's Future Perfect, to discuss reimagining the future. Among other things, they touched on the vast diversity of groups negatively impacted by factory farming, mentioning animals, communities, farmers, and workers. This included recent news of child labor in meat-processing plants. Leah stated:
I think if we were to try to invent the most cruel, horrific, unfair, unjust, unsustainable food system, we couldn't have thought of anything worse than factory farming. 
Over 50 other inspiring changemakers spoke at the summit, including Beyond Meat vice president of brand innovation Kate Dugan, actor and activist Daniella Monet, and Lantern Publishing author Cheryl Moss.
The Future
We at Mercy For Animals are so proud to have been part of this incredible, inspiring event. Want to start building a better future today? Click here to become an Animal Ally!